Learning the language
At VIVA, all our staff are fluent in English, the vast majority speak Spanish and many others speak German, Scandinavian or French, so you don't have to worry about mastering Spanish straight away. But what about after the keys are yours?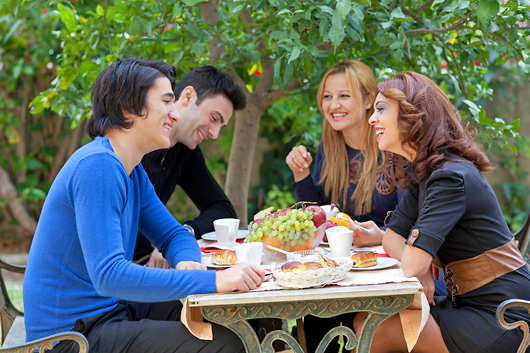 The Costa de Sol's popularity among Brits means that it is extremely easy to get by without ever really having to master Spanish. The question of whether you should adopt this mindset, however, is a notoriously spiky one. Spanish is actually not that difficult a language to pick up, and if you are starting from scratch then you will probably surprise yourself by how many words you will already know or feel familiar with.
If you are planning on buying a property in Spain for use as a holiday home, then it's handy to know a few choice phrases (you will find these further down the page), but if you are planning to live and/or work in Spain, then it will make your life a whole lot easier, richer and more fulfilling if you can master the language, and here's why…
Greater job prospects – gone are the days of plentiful, easy employment for English-only speakers. There are still pockets of expat strongholds dotted along the coast, but job opportunities are usually quite limited. The vast majority of VIVA's staff speak Spanish.
More active social life – the Spanish are incredibly warm, friendly and loyal people, and while most young Spaniards will speak decent English, many older generations will not. So in order to truly make friends with a Spaniard, it pays to speak their lingo. The rewards for doing so are endless.
Greater independence – life's immutable rhythm of chores, tasks and routines doesn't stop just because the sun's shining or the beach is beckoning: your hair still needs cutting, the car still needs servicing, phone and internet contracts need sorting out, and so on…being able to converse properly with the Spanish service industry without having to bring along that friend who's fluent affords you greater independence, and widens your options of service providers.
Love – that beautiful señorita over there? Sure, try asking her out. She might well speak English, but she's not going to be bowled over by your monolingual ways. Dazzle her with a bit of her own lingo, however, and she's much more likely to see you in a favourable light.
Cultural relevance – a language is not just a dictionary of words, it's an identity. Many of Spain's unique idiosyncrasies become much easier to understand once you learn the country's beautiful language. By talking like a Spaniard, you are most of the way there towards thinking like a Spaniard and living like a Spaniard, which is an incredibly enriching experience.
How to learn
There are a number of competitively priced language schools in every town and resort of the Costa del Sol. Quality tends to vary, so it is best to conduct a bit of diligent research before signing up with a school or class. Ideally, a minimum of three to four hours of structured lessons a week should be your initial aim, and then it really is down to you. Having the confidence to try out your newly acquired skills is one of the hardest initial obstacles to overcome – it is only natural to be nervous, fearful of making mistakes, and generally slightly uncomfortable when attempting those first exchanges. But remember – and this is a cliché but one that rings true – no Spaniard will ever think ill of you for trying. Indeed, the very fact that you're making the effort is usually met with beaming smiles and a warm reception.
Alcohol is also a great tool for stripping away your layers of reserve and self-doubt, so why not combine a cool cerveza with your new-found passion for Spanish?
Useful phrases
Good morning - Buenos días
Good afternoon/evening - Buenas tardes
Good night - Buenas noches
Hello - Hola
Goodbye - Adiós
See you later - Hasta luego
See you soon - Hasta pronto
Thank you - Gracias
Please - Por favor
How are you? - ¿Cómo estás? Or ¿Qué tal?
Fine, thank you - Bien, gracias
My name is... - Me llamo...
What's your name? - ¿Cómo te llamas?
A cold beer please - Una cerveza fría por favor
A white coffee please - Un café con leche por favor
A glass of red wine please - Una copa de vino tinto por favor
Can I have the bill please? - La cuenta por favor
How much does it cost? - ¿Cuánto cuesta?
Where is the nearest bank? - ¿Dónde está el banco más cercano?
Life in Spain main page
More from Life in Spain