Treat the family to turrones
Give the family a taste of traditional Spanish Christmas with these easy and delicious turrones recipes.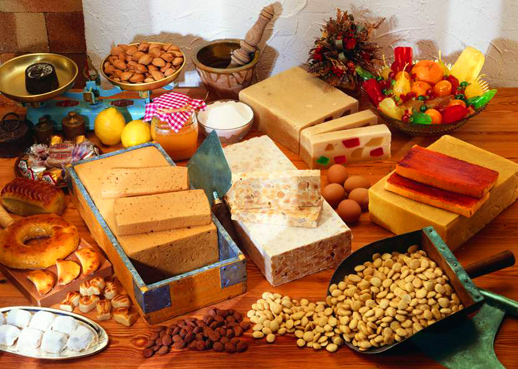 Turrón de Yema (egg yolk nougat)
Ingredients
300g ground almonds
300g icing sugar
6 egg yolks
Grated rind of 1 lemon
Pinch of cinnamon
Method
Mix the ground almonds with the egg yolks. Make a syrup with the icing sugar and some water, adding the cinnamon and grated lemon. Leave to cook until it begins to turn brown. Now add the almond and egg mixture and cook slowly, stirring all the time. When it thickens and does not stick, press into a baking tray and leave to cool. Cut into cubes and serve.
Turrón de Jijona (soft nougat)
Ingredients
1 dessertspoon cinnamon
250g sugar
250g honey
250g toasted almonds
250g toasted hazelnuts
5 egg whites
Method
Chop the nuts finely and crush into a smooth paste using a pestle and mortar or food processor. Beat the egg whites until stiff and add to the paste. In a saucepan, bring the honey and sugar to a gentle boil. Add the nut paste to the honey mixture. Mix constantly with a wooden spatula for ten minutes. Remove from the heat, put into a baking tray lined with rice or waxed paper and leave to cool. Sprinkle with some more cinnamon before serving.
Food & Drink in Spain main page
More from Food & Drink in Spain