Frequently asked questions
VIVA sat down with the experts at UCI for a chat about the most common questions, concerns and queries put forward by clients regarding the ins and outs of Spanish mortgages.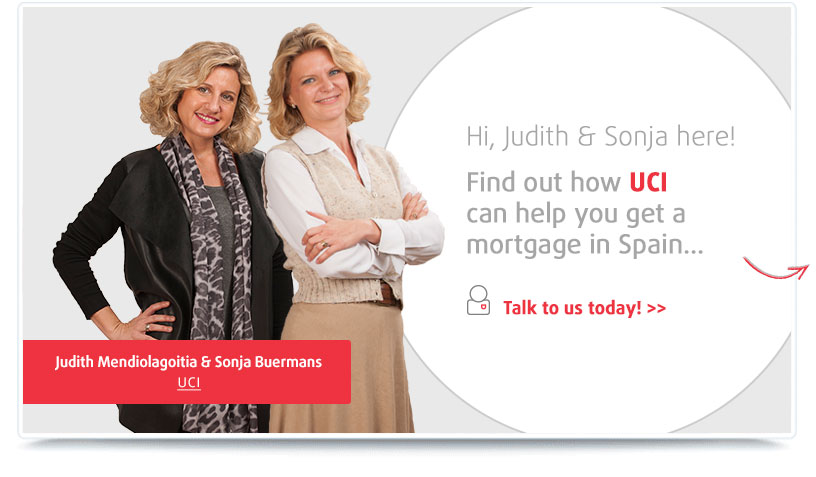 In a Q&A session, UCI gave us the answers to the most frequently asked questions they are asked. Here's what they told us...
Who are

UCI

?

Established in 1989 through a joint venture between two of the biggest European banks, UCI (Unión de Créditos Inmobiliarios) is a credit institution specialising in mortgage loans authorised by the Bank of Spain (Banco de España) and subject to its supervision. Our mission is to help people acquire their homes through the lending and handling of responsible mortgages tailored to the customer's needs. Since our beginnings, our mortgage lending channel has consisted of a network of estate agents.




Does

UCI

act as a broker?

No, UCI

does not act as a broker. We sell our own mortgages.




What's the maximum number of years to repay my mortgage with

UCI

?

We offer long-term mortgages of up to 25 years, with a maximum age at the end of the loan of 75 years.




What's the loan-to-value of a

UCI

mortgage?

Up to 70% loan-to-value.




Do I need to open a bank account in Spain?

It will definitely be easier for you if you do, because in addition to the mortgage repayments, you can also arrange to pay the utility bills, community fees, etc., through your Spanish bank account.




Can I apply for a

UCI

mortgage through a Santander branch in the UK?

Unfortunately not. However,

UCI

have a team of highly experienced, qualified staff who will provide you with an efficient, friendly and knowledgeable service in your own language.




Do I need to purchase any related products (credit cards, pension funds, etc.) to be eligible for a mortgage with

UCI

?

Not at all. The only product linked to our mortgages is home insurance, which is compulsory by Spanish law when taking out a mortgage. We also offer 'title deed' insurance that is not compulsory, but it guarantees the right to property and/or property deeds in case of financial loss caused by unforeseen occurrences. Our experts can advise you on this without obligation.




Do I need to speak Spanish to get a mortgage with

UCI

?

No, not at all! Our team of experts will provide a first-class service in your own language and guide you through the entire process.




Do I still need to go to the notary even though I live abroad?

You have two options. You can complete the sale and the mortgage deeds by giving power of attorney to your lawyer, or you can be present on the completion day.

UCI

will arrange the deeds at the notary and ensure that any previous outstanding debts are cancelled.




What happens if I don't pay my monthly repayment? Will it affect my credit report?

Yes, it will affect your credit report. In such an event, our International Debt Collections department would contact you to recover the arrears.






What are the steps to requesting a mortgage with

UCI

?

There are a number of simple steps in getting a mortgage. The first is knowing how much you can borrow. Our mortgage expert will advise you on that. Next, you will have to provide the required documentation and with the bank's approval, you will agree a deposit to purchase the property. You will need to get a NIE number at the police station, sign the pre-contractual documents requested by Banco de España that confirm you understand and agree to all conditions, and then sign the mortgage deeds at the notary, along with the purchase deeds. If it sounds a little confusing, don't worry!

UCI

is here to help and guide you through the entire process and beyond.