Meet the Aitkenheads
When Douglas and Eleanor Aitkenhead bought a holiday home in Mijas - at the beginning of the Coast's property boom – it was a decision that would change their lives and indeed the entire family dynamic.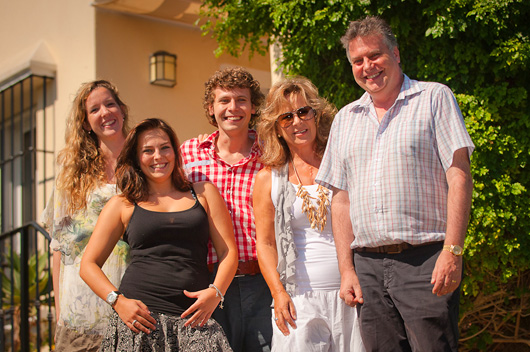 Frequent visitors, the Costa del Sol got under their skin the way it has a habit of doing, so much so that their next move was to buy a stunning villa – this time at the peak of the boom – and to make it their permanent family home. Since then they've never looked back… and yes, as if you hadn't already guessed, they bought both their properties through VIVA.
"We were living in Oman when we decided to buy a holiday apartment in southern Spain," Eleanor recalls. "That was back in 2001. We didn't really know where to start, but then a friend of ours recommended VIVA which, as it happened, turned out to be a stroke of extraordinarily good luck. The purchase was simple and straightforward, they pointed us in the right direction for sound, independent financial advice, and helped us with introductions to furniture shops and interior designers… it couldn't have been easier. It's like VIVA is a one-stop property shop!
"Over the next few years we had so many fabulous vacations on the Costa del Sol, and when we made up our minds in 2007 to put down our roots here, it was only natural that we went back to VIVA again to help us find our next property.
"VIVA is a one-stop property shop."
"We've spent most of our married life in the Middle East, and our two children – Chris and Emma – grew up there. By the time we were looking for a villa in Mijas, we'd left Oman and were living in Egypt. When I flew in from Cairo, one of the VIVA property consultants was there to meet me at Málaga airport, and within an hour of landing we were touring properties. This time round though, VIVA didn't have exactly the property we wanted on their books, so we were driving around in search of the perfect villa, took a wrong turning… and there it was, exactly what we were looking for, but for sale with another agent. Not that that mattered of course, because the two agencies simply split the commission, which is standard practice."
Husband Douglas takes up the story. "Yes, but what isn't standard practice is the extent to which VIVA pulled out all the stops for us. Right from the start they interpreted our requirements brilliantly, when generally speaking most other agents don't listen, nor do they have the resources, experience or local knowledge. And although it was still very much a vendors' market at the time, VIVA also did an excellent job when it came to negotiating the price. Well, let's not forget I'm a Scot, so expecting to get a discount is part of my genetic makeup!
"The words 'integrity' and 'estate agents' aren't normally found in the same sentence… unless you're talking about VIVA."
"How does owning a home on the Costa del Sol work for us? Well, pretty much in every way you can think of, and on every level. But, primarily, it's got to be the location, the climate, and of course the infrastructure. As a family, we're quite spread out. Eleanor and Emma – who's at school on the Coast and planning to go on to Uni in the UK – live here all year round. Chris is studying in Scotland and wants to go into property management, and I'm currently working in Syria as a government adviser, heading a project to streamline the rules and regulations surrounding international commerce.
"But because this is a crossroads, with excellent connections to every point on the compass, we all get together frequently to enjoy some quality time. Málaga now has the largest non-hub airport in Europe, and for long-haul flights, well you can hop on a 'plane and be in Madrid Barajas within the hour. So if you're based on the Costa del Sol, the world's your oyster. We know quite a few people who live here, run their UK businesses from their Mediterranean home, and simply commute as and when they need to. I know of a lorry driver and a London cabbie who do it all the time. To be honest, I don't know why more people don't follow suit… let's face it, their families would enjoy a lifestyle that's light years away from what they're used to in the UK. I should know, I mean Eleanor and Emma are both having the time of their lives here!
"Then of course, there's our villa. We could never have bought a property like this – and with a garden of this size – in the UK where land is at such a premium. As for our private pool, well, you don't see too many of those back home in Scotland! There is one thing that's common to both countries though, and that's the property system which, with gazumping and chains unheard of, is actually safer than in England. When the time comes, just make sure – like us – that you get yourself a professional estate agent, plus an experienced independent lawyer… and buying a property here should be a piece of cake.
"And don't forget that when you own a home on the Costa del Sol, the most priceless things of all – the sunshine, mild winters, blue sky, shimmering sea, breathtaking scenery and laidback Andalusian atmosphere – all come absolutely free of charge!"
Life in Spain main page
More from Life in Spain