Transport & Travel - Taking a taxi on the Costa del Sol
If you don't feel like driving, hopping in a taxi is a great option - taxis operate all along the Costa del Sol and you'll usually find one close at hand, especially in the tourist areas.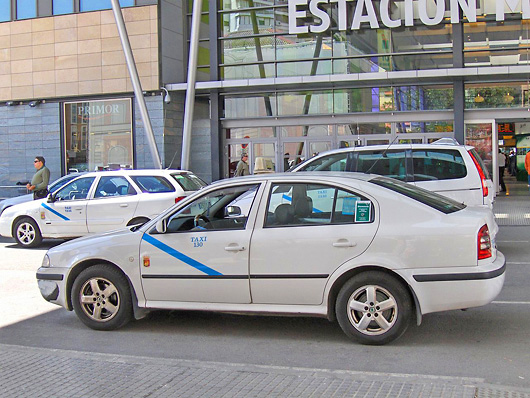 Taxis in and around the Costa del Sol are clearly identifiable by their off-white colouring and green light that indicates they are available. Once inside, it is pretty easy to ascertain if it is a genuine taxi or not – all taxi drivers are required by law to display their credentials on the dashboard, so if something doesn't feel right, simply get out.
Taxi prices are reasonable, provided what you are asking is reasonable. A quick scoot from Marbella to Puerto Banús is reasonable, as is a late-night taxi from Fuengirola into the Port, too. Anything farther than that may feel expensive, and in truth it probably is, but that's taxis for you. Taxis on the Costa del Sol are now metered. Beforehand, prices were fixed and printed on a laminated chart, but now - as in most other major European cities - the meter will dictate how much your journey costs.
Hailing a taxi is very easy, but late at night it is usually easier to walk to a designated taxi rank, where a simple queuing system keeps things in step. In most cases it's not possible to book a taxi in advance, but once you phone the cab company your taxi is usually at your front door within 10 to 15 minutes.
Transport and Travel main page
More from Transport and Travel