Property for sale in La Heredia
Look no further if you are thinking of buying an apartment, townhouse or villa in La Heredia! We have a wonderful selection of property for sale in this unique area, not to mention our very own VIVA office, managed by Claudia Calabrò and Carlo Cavicchi who have long experience of the real estate industry here on the Costa del Sol. Residents of La Heredia themselves since 2006, the depth and breadth of their local knowledge is exceptional...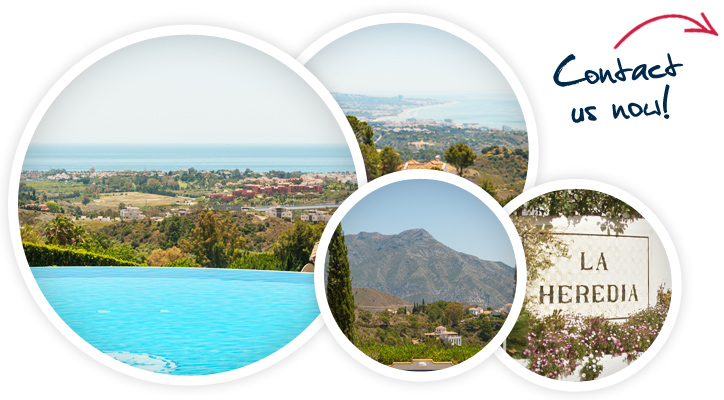 Find your perfect La Heredia property
Use the VIVA Search Bar to track down your perfect La Heredia property or fill in your contact details in the contact form above, let us know your preferred criteria, and we will do the all the work, to search and present you with a selection of matching properties in the La Heredia area!
Take a look at some of the amazing properties we have for sale at the moment in La Heredia:
La Heredia has it all…

North of the town of San Pedro de Alcantara and the wonderful beaches, you will find the stunning white village of La Heredia comfortably nestled into the foothills of the Sierra Blanca mountains on the Ronda road. Reminiscent of a traditional white pueblo, echoing the ancient charm of Andalucía, La Heredia boasts beautiful views across the mountains, down to the coast and across the horizon.
Surrounded by some of the finest golf courses on the Costa del Sol and in close distance to exclusive developments including the prestigious La Zagaleta, the charming village of La Heredia is the perfect place for a permanent residence or holiday home.
So if it's winding cobbled streets, pretty plazas, splashing fountains and beautiful architecture you're after, why not try the relaxed pace of living away from the coast and enjoy outstanding panoramic views of the mountains and surrounding countryside in your very own property in La Heredia.
Our handy VIVA office in the centre of La Heredia couldn't be easier to find, so contact Claudia Calabrò and Carlo Cavicchi today for more information.