R3296380
Finca for sale in Almogía
Built

90 m2

Beds

3

Baths

2

Terrace

40m²

Plot

52200 m2
Finca - Cortijo, Almogía, Costa del Sol.
Peace, total privacy and connected to nature, if they are your requirements this is your dream place-
10 mn from the center of Almogia and 35 mn from the airport of Malaga, magnificent country house of the year 2000-
3 Bedrooms, 2 Bathrooms, Built 102 m2-Terrace 28 m2-Land 52200 m2
It is accessed by a dirt road in very good condition, the property has unsurpassed and panoramic views.
The house itself, is spectacular, the lower part with 2 bedrooms, 2 bathrooms open kitchen in the living room with its stove give a touch of romance, the top has a large bedroom, to dominate the valley.
Outside there is a porch with its barbecue, its reclining armchairs together with its buddies for your reading evenings, an Andalusian fountain, some solar panels that supply the electricity of the house (it also has a generator), city water ??and if you like to connect to the world the Internet connection is very good.
It does not have a pool, but you will surely find the right place to put it.
52200 m2 of land with olive trees, almonds, pine trees ... and if you want to exploit it, you will surely find the right people around you to advise you.
and at this price .... hurry up.

Setting : Country, Village, Mountain Pueblo, Close To Forest.
Orientation : South East.
Condition : Excellent.
Views : Mountain, Country, Panoramic, Courtyard, Forest.
Features : Fitted Wardrobes, Private Terrace, Ensuite Bathroom, Barbeque.
Furniture : Part Furnished.
Kitchen : Partially Fitted.
Garden : Private.
Parking : Private.
Category : Bargain.
Read more
Read less
Built

90 m2

Bedrooms

3

Bathrooms

2

Terrace

40m²

Plot

52200 m2

Claudia Heynemann
Customer Services
Natural Heritage
Home to a UNESCO World Heritage-declared cultural ensemble, Antequera is at Andalucía's geographical crossroads – located between the region's four major cities of Sevilla, Málaga, Granada and Córdoba.

Enlarge Map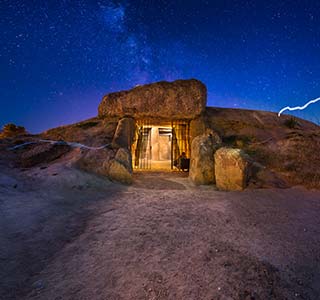 The Antequera Dolmens Site, which comprises three burial monuments (two of which are the largest of their kind in Europe) and two natural mountain features, received its official listing in 2016; while the Phoenicians, Romans and Moors all also left their indelible marks on the city until the Christians drove the latter out and turned Antequera into a stronghold that helped protect the kingdom at Granada.
Antequera is situated at the foot of the El Torcal mountain range and is a short distance from some of Spain's most dramatic swathes of natural beauty and semi-wilderness, including the Fuente de Piedra, a saltwater lagoon that is one of the few European nesting spots for the greater flamingo; the gorge and lakes of El Chorro; and the striking La Peña de los Enamorados (The Lovers' Rock), which looms large over the city.
Day-Time Pursuits and Evening Pleasures
With over 30 churches and convents in the city, religious visitors, or lovers of Gothic, Baroque and Renaissance architecture, are kept well occupied. After such a culturally rich feast for the eyes, it's the stomach's turn, and Antequera offers liberal sprinklings of the local liquid gold, olive oil, and tasty olives grown in the surrounding valleys.
The museums in Antequera are thought to house approximately 80 percent of Málaga province's art treasures, while additional places of interest include the Municipal Museum at the Palace of Najera; the bullring, which dates from 1848; the Roman baths; the Roman villa of Estación; and the Arco de los Gigantes, which was erected in 1595 to honour King Philip II of Spain.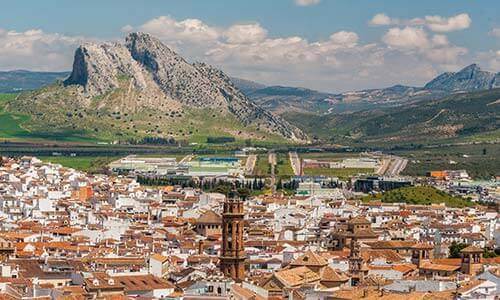 European Influences
As a relatively lively city, Antequera has plenty for night owls to get their talons into. Pursuits that don't require a fluent grasp of the Spanish language include flamenco dancing, dining out and that great Andalucian pastime: drinking and conversing until the early hours of the morning.
Antequera is particularly blessed with a wide range of bars from classic nondescript bodega-style to more contemporary "European" establishments – and others settling for a happy medium in between. Most bars and restaurants are highly visible around the town centre but, if you are feeling adventurous, a wander down the numerous side streets often yields a rewarding, and inexpensive, find.