R2394077
Finca for sale in Antequera
Built

186 m2

Beds

6

Baths

2

Terrace

11m²

Plot

25579 m2
This secluded property in the inland of Andalucía gives the feeling of tranquillity & natural beauty. The region of Antequera is mountainous & green and the closest village is Valle de Abdalajís which is about a 10 minute drive. Given the fact that the property offers 6 bedrooms and 2 bathrooms you could consider using it for commercial purposes as well. The finca was a farm originally and the various storerooms have been converted into bedrooms, giving it a special layout. From the swimming pool and terraces there are lovely views over rural Andalucía.
Read more
Read less
Built

186 m2

Bedrooms

6

Bathrooms

2

Terrace

11m²

Plot

25579 m2

Greig Hayes
Client Services Director
Area Info: Antequera Guide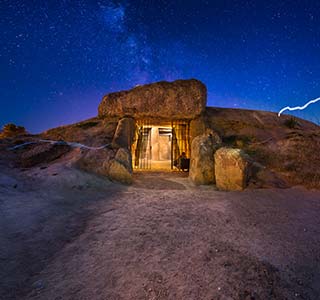 The Antequera Dolmens Site, which comprises three burial monuments (two of which are the largest of their kind in Europe) and two natural mountain features, received its official listing in 2016; while the Phoenicians, Romans and Moors all also left their indelible marks on the city until the Christians drove the latter out and turned Antequera into a stronghold that helped protect the kingdom at Granada.
Antequera is situated at the foot of the El Torcal mountain range and is a short distance from some of Spain's most dramatic swathes of natural beauty and semi-wilderness, including the Fuente de Piedra, a saltwater lagoon that is one of the few European nesting spots for the greater flamingo; the gorge and lakes of El Chorro; and the striking La Peña de los Enamorados (The Lovers' Rock), which looms large over the city.
As a relatively lively city, Antequera has plenty for night owls to get their talons into. Pursuits that don't require a fluent grasp of the Spanish language include flamenco dancing, dining out and that great Andalucian pastime: drinking and conversing until the early hours of the morning.
Antequera is particularly blessed with a wide range of bars from classic nondescript bodega-style to more contemporary "European" establishments – and others settling for a happy medium in between. Most bars and restaurants are highly visible around the town centre but, if you are feeling adventurous, a wander down the numerous side streets often yields a rewarding, and inexpensive, find.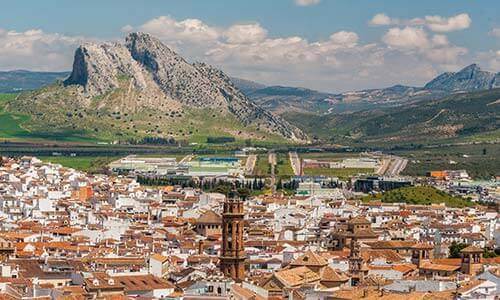 Day-Time Pursuits and Evening Pleasures
With over 30 churches and convents in the city, religious visitors, or lovers of Gothic, Baroque and Renaissance architecture, are kept well occupied. After such a culturally rich feast for the eyes, it's the stomach's turn, and Antequera offers liberal sprinklings of the local liquid gold, olive oil, and tasty olives grown in the surrounding valleys.
The museums in Antequera are thought to house approximately 80 percent of Málaga province's art treasures, while additional places of interest include the Municipal Museum at the Palace of Najera; the bullring, which dates from 1848; the Roman baths; the Roman villa of Estación; and the Arco de los Gigantes, which was erected in 1595 to honour King Philip II of Spain.