R2009178
Apartment for sale in Los Arqueros, Benahavís
Built

90 m2

Beds

2

Baths

2

Terrace

80m²
This penthouse apartment offers spacious accomodation and the exclusivity Los Arqueros Golf & Country Club offers.
Features include underground parking, storeroom, rooftop solarium and is sold fully furnished.

Los Eucaliptos is one of the most recent developments built by Taylor Woodrow located in the prestigious Los Arqueros Golf & Country Club. It comprises 2 and 3 bedroom apartments with luxury specifications including cream marble flooring and bathrooms and Bosch appliances in the kitchens. Each building within the community comprises of just 6 apartments, with its own lift. Every property benefits from an underground parking space included in the sales price, with storage rooms available to purchase separately.

Los Eucaliptos is surrounded by the new Severiano Ballesteros designed 9-hole golf course and boasts beautiful landscaped gardens and 2 communal swimming pools.

Located just minutes from Marbella, the world famous Puerto Banus and the traditional Spanish town of San Pedro de Alcantara and set amongst the foothills of Sierra de Ronda, Los Arqueros Golf & Country Club offers a combination of spectacular surrounding scenery, open spaces and exceptional views over the Mediterranean sea.

Los Arqueros is more than an urbanization, made up of a collection of individual "villages" each with their own unique style. Apartments, town houses, villas are spread around the sleek green fairways of the Sevi Ballesteros-designed 18-hole course. High quality prevails in each of the Taylor Wimpey-built properties. High-spec kitchens, sizeable terraces, gardens and pools are just some of the benefits within each. Whatever your taste or requirement, your needs will be met with attention to detail afforded at every opportunity.

Los Arqueros Golf & Country Club, as its name suggests, provides more than a challenging course with stunning surrounds. Other great facilities, such as the tennis, paddle & squash courts, gym, driving range, Pro shop, restaurant / bar and stunning members lounge are all on site. In addition the Los Arqueros Shopping Village is in construction with grocery stores and many other shops, cafes and bars planned.
Read more
Read less
Built

90 m2

Bedrooms

2

Bathrooms

2

Terrace

80m²

Claudia Heynemann
Customer Services
Area Info: Benahavís Guide
Sublime Gastronomy
The most beautiful town in Andalucía? It's some boast, but Benahavís might just well be. Tucked a few kilometres inland between Estepona and San Pedro de Alcántara (Marbella), this quaint and picture-perfect pueblo is considered the gastronomic capital of the Costa del Sol, home to some of the finest restaurants found anywhere in southern Spain.
Make a checklist of everything you could ever wish for in your dream Spanish life.
Fantastic weather? Check: that's a given – Benahavís is at the heart of the Costa del Sol and receives more than 300 days of sunshine per year. A classic slice of Spain that's accessible and welcoming? Check: Benahavís is just seven kilometres from Puerto Banús and less than an hour's drive from Málaga airport, and has a small population of expats who have integrated well.
A destination that is both beautiful and peaceful? Check: the approach road to Benahavís sees you leave the coastal highway behind and weave past rolling plains that turn steadily into rocky cliff faces and then a plunging ravine.
The road winds between sheer cliff face and clear drop down to the crisp and cool waters of the Guadalmina River, before the white-washed, sugar-cube beauty of Benahavís appears before you, tucked into the valley and magnificently presented in the bright Mediterranean sunlight.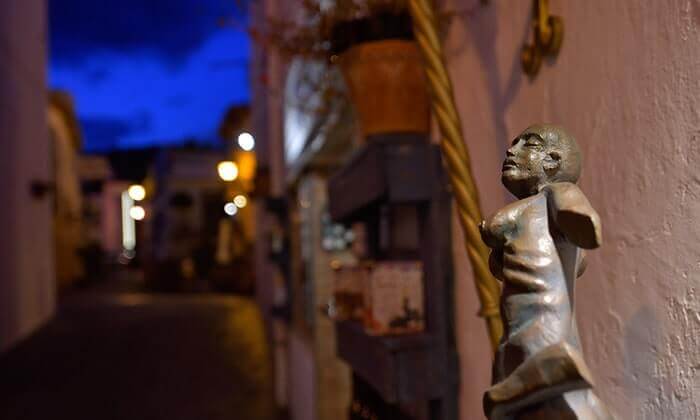 The surroundings are evidently inspirational, as Benahavís is home to a thriving community of artisans, primarily painters, potters and chefs. In addition to the art galleries and craft shops, Benahavís offers a brilliant portfolio of restaurants – from authentic pizzerias to classy haute cuisine establishments, robust grill-houses and the ubiquitous tapas taverns. Dining out in Benahavís is a gastronomic pleasure, matched only by the visceral thrill of enjoying an al fresco meal under a star-studded sky in one of Europe's most alluring natural patios.
Also part of Benahavís municipality is La Zagaleta, considered the most exclusive residential urbanisation in Europe and located on the road from Marbella to Ronda in the former sprawling luxury mountain estate of Saudi entrepreneur, arms dealer and Marbella socialite Adnan Khashoggi.
Today, the privacy of La Zagaleta's residents – and even visiting holidaymakers and guests – is fiercely guarded, to the extent that their identities rarely transcend the sphere of unsubstantiated rumours. All that can be assumed is that they include the crème de la crème of Europe's cultural, sporting, political, business and aristocratic elite.
There are three distinct areas of Benahavís, each highlighted by its own charm and character. The newer outskirts contain modern apartment complexes, sports facilities, hotels and parkland; this is where an increasing number of expats are moving and making the most of the swift access to the coast. Most of the bars, restaurants, jewellers and galleries are to be found in the heart of the town. The third area is the old residential part, where local Spaniards live amidst the undulating terrain and twisting streets; an area characterised by beautifully kept villas and townhouses, charming gardens and gorgeous views.
Day-Time Pursuits and Evening Pleasures
When there is so much to see, so much can be missed. Driving – such a joy along the twisting mountain roads that typify 95 per cent of inland Costa del Sol – should be shunned when in and around Benahavís. While going by foot through the steep, tight streets of the town centre is just good common sense, there is a more spectacular reason to forego the wheels as you leave Benahavís and head towards the coast.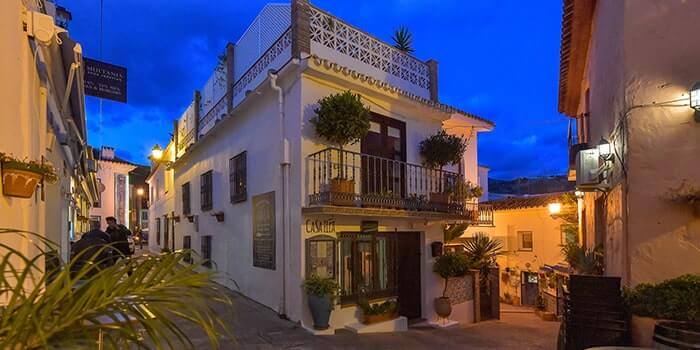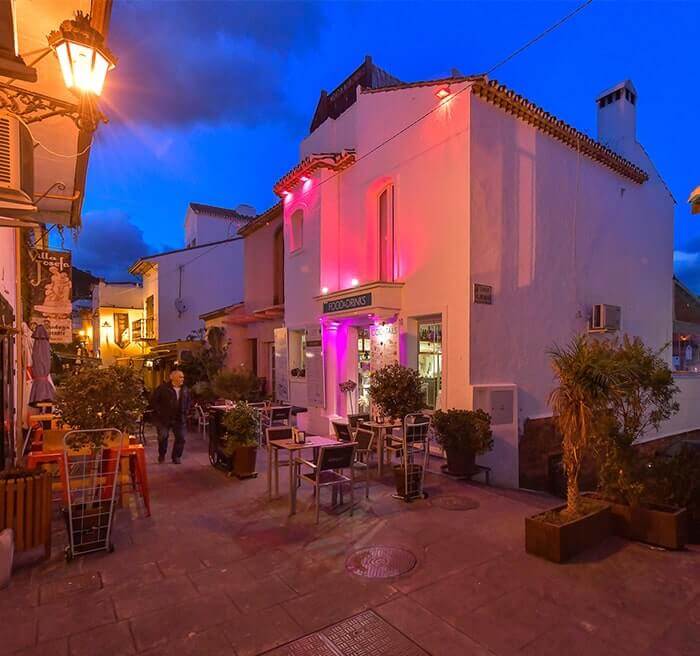 A mere 200 metres along the main road is an opening. Barely marked and steeply descending, one of the village's hidden treasures lies some 30 metres below. Huge boulders, remnants from some ancient landslide or earthquake, lie strewn along the river bed at the foot of the Guadalmina River valley. Some boulders act as a dam, creating deep and crystal-clear plunge pools, while others take the form of organic diving boards. So, don your swimsuit, leave those with a fear of heights guarding the towels on the grassy verge, and dive into the refreshing waters below.
Having banished the sedate image of Benahavís with that one giant leap into the abyss, the surprises just keep on coming. Hikers will enjoy the 360-degree opportunities to traipse up or down, and golfers will love the surrounding clubs (Benahavís has the highest number of courses per capita of any municipality in Spain).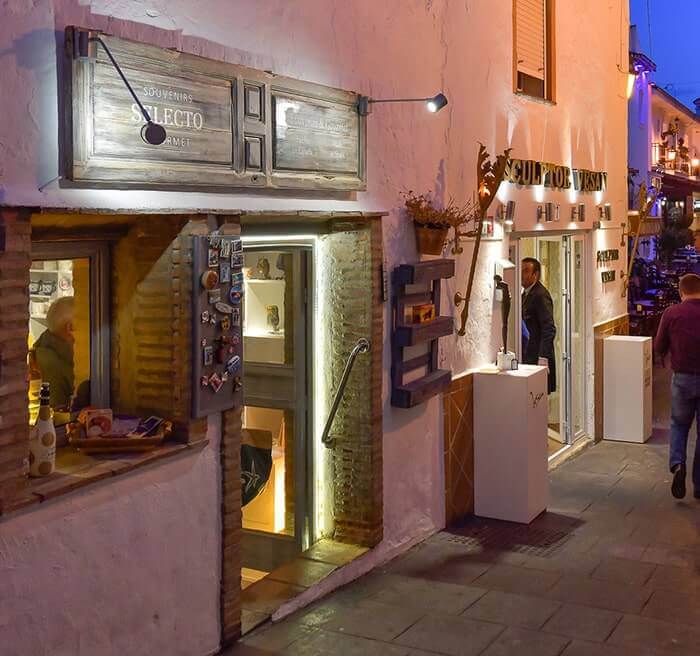 While Benahavís might lack a couple of the comforts and conveniences of home, they're all pretty close by. The Diana Park commercial centre is just a five-minute drive away, and other key needs such as bilingual schools, hospitals, supermarkets and clothing stores are in Estepona and Marbella – a handy 15-minute drive.
As something of an open-air museum – back garden and dining room rolled into one – Benahavís at dusk and through the evening offers untold pleasures. The absence of a nightclub or loud bar ensures the atmosphere remains camped in the "contented" sector, where residents and tourists of all ages instead turn their attentions to fine wine, great food and good company. Besides, who needs music when the orchestral clicking of thousands of hillside crickets creates an operatic backdrop to each evening?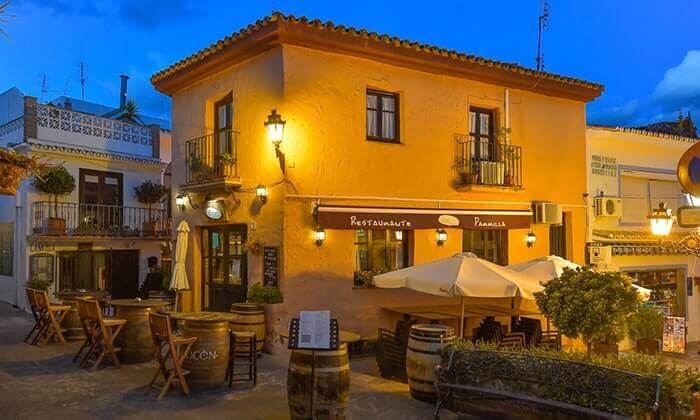 Competing with the crickets is the intermittent clinking of cutlery and glass, as hundreds of al fresco diners polish off their meals bathed in candle glow and suffused with a sense of relaxed wellbeing. The laughter of children – energised by their parents' relaxed mood and lax bedtime curfews – adds to the atmosphere, as professional waiters serve, weave, chat and joke with their clientele. It's a classic scene of continental living, and it's one that happens on cue, every balmy evening of the year, in Benahavís. Who wouldn't want to be part of it?