R2832074
Detached villa for sale in Casares
Built

150 m2

Beds

3

Baths

3

Terrace

50m²

Plot

150 m2
*****VIEWINGS ONLY FROM MONDAY TO FRIDAY******
*****FROM 16:00 till 18:00******

Recently refurbished Second Line Beach Semi-Detached Villa in Bahia Dorada !!!

This charming Semi-Detached Villa has two floors and has been fully reformed. On the ground floor we can find 1 main bedroom with a separate bathroom and another guest bedroom with separate bathroom. After some small little stairs, there is the kitchen and the living/ dinning area which leads to a big terrace and to a private pool area. From the swimming pool you can get access to a sunny spacious solarium.
There is also a small guest apartment: 1 bedroom and 1 bathroom , with independent entrance and direct access to the beach. The guest apartment needs a bit of renovation.
South facing, the property has very large garden with some fruit trees.
A rare opportunity to purchase a second line beach house.
Situated only a 3 minute drive from Estepona town centre and 45 minutes from Malaga International airport.

All amenities are within a short distance including new golf courses and a health spa. Must be seen!!
Read more
Read less
Built

150 m2

Bedrooms

3

Bathrooms

3

Terrace

50m²

Plot

150 m2

Claudia Heynemann
Customer Services
Picturesque Coast
Spectacular, rural and impressively daring in its architectural makeup, the white-washed clifftop village of Casares has been a popular destination – and classic photo opportunity – for tourists for decades.
More recently, however, a lesser-known area of the sprawling municipality has also been attracting visitors' and homebuyers' attention.
exceptional residential estates are being developed, while Finca Cortesín was the venue for the World Match Play Golf Championship in 2009, 2011 and 2012 and is home to one of the Costa del Sol's seven Michelin-star restaurants.
But to return to the mountains…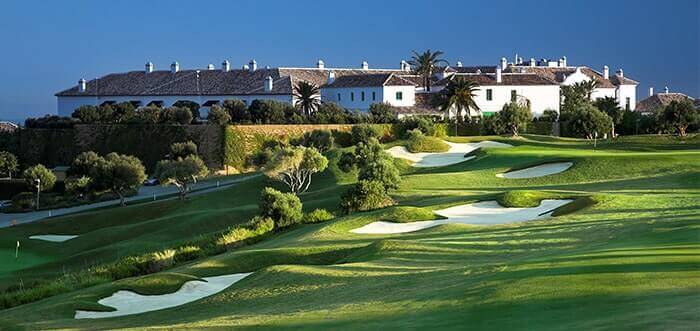 Intriguing Village Life
Approach from the coastal road and you travel through some of the most picturesque countryside found anywhere on the coast. Stop the car and take a wander through the hills: that sound you hear is one of silence, interspersed with birdsong or the occasional cricket.
Once you arrive in Casares, the town actually sits below you. A quick scan of the horizon from one of the telescopic lookout points confirms all you need to know: discovering this magnificent village is going to be an awesome experience.
The steep and unevenly-paved streets whisk you to the village's heart, taking you past plenty of front doors, many left open for cooling purposes, and allowing you an intriguing glimpse into what life is like here.
Day-Time Pursuits and Evening Pleasures
If you have the legs for it, the entire village can be seen in just a couple of hours. After your initial descent into the centre, which sits at the bottom of an impressively steep valley, the central fountain and its neighbouring cafés and restaurants will certainly be a captivating sight. Once suitably refreshed, you can choose to continue down, to the foot of the cliff on which the village sits, or head up to the peak, where wonderful views and a couple of superb restaurants await.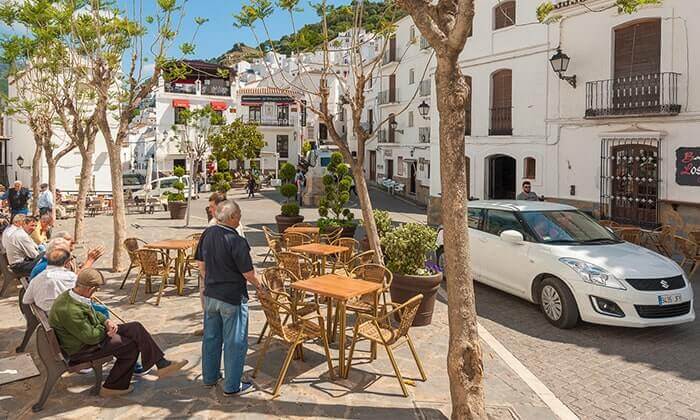 From here, you can scramble across the remains of the former Moorish garrison fort, take a peek into the uncannily cheery graveyard, wander over to the new church, and gaze back down into the centre of the village. At practically any time, simply look up to see kestrels, peregrine falcons and black African vultures swooping high above you.
Then there's the views of Gibraltar and Morocco, the excellent hiking and horseback riding opportunities inland, the opulent church near the main Plaza de España, and a treasure trove selection of local craft stores, grocers and bakers.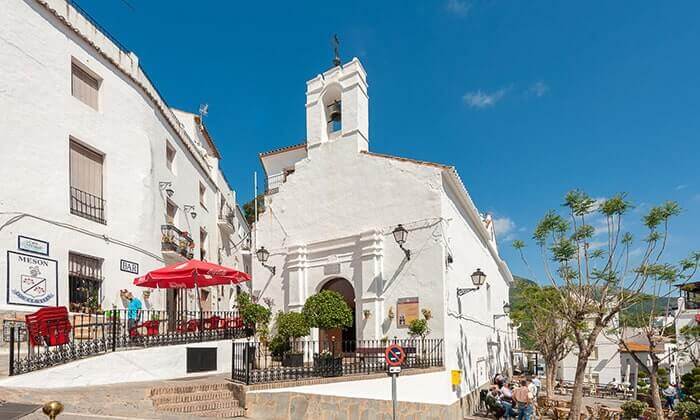 Appetising Culinary Options
Casares' nightlife is not exactly legendary. However, this being Spain, there are several bars that stay open until late and attract plenty of locals during the weekend. Those seeking something a little livelier tend to head to the coast. Lovers of tapas will most certainly enjoy the range of options available in Casares.
Most small bars have an appetising selection, while the larger restaurants on the edge of the village serve a more varied choice of sit-down a la carte meals; with a couple also offering delightful al fresco seating where breathtaking views across the Mediterranean and towards northern Africa can be enjoyed.
Just picture that: an affordable meal, accompanied by fine wine and loved ones, enjoyed atop a cliff overlooking the glistening Mediterranean and the distant yet tangibly close exotic romance of Morocco… and the dying ambers of a setting sun as it shoots towards the ocean calling time on another memorable day in southern Europe.