R2644796
Apartment for sale in Estepona
Viewings from the 15th of April 2019

Great apartment on Avenida Andalucia

An accessible and comfortable apartment for the family apartment, without any doubt, an excellent opportunity. Across the center of Estepona this apartment offers easy access to all the amenities you could want and to just minutes from Puerto Banus and the luxurious city of Marbella. If you want a property with good price with amenities you require to live in a place like Costa del Sol, this is the piece you were looking for.

This beautiful apartment has 111 square meters consisting of four (4) large and bright rooms (one with a bath en suite) and (2) two bathrooms in total. Accessibility and comfort of this apartment is priceless, it is a unique opportunity to acquire a property in a central site Estepona, one of the most tourist towns on the Costa del Sol.

This apartment has a large living room with direct access to the terrace to spend you and your family. There is no other property like this in the whole area, definitely a plus for you. The furniture is completely lined with wood giving it a Spanish touch to the home. It has a spacious lobby to invite all who feel impressed with this new acquisition. The kitchen is beautifully distributed into several sections and is fully furnished and has a refrigerator 1.85 cm. This kitchen is fully lit and has facilities like washing machine, dishwasher, vitro, oven and granite counter tops. It's all a show.

Estepona is a major tourist center of Malaga's west coast, which has magnificent beaches equipped with all kinds of services, as well as an important marina. Fishing, golf and tourism are its main livelihood.

Call for more information about this property.
Read More
Read less
Built

111 m2

Bedrooms

4

Bathrooms

2

Greig Hayes
Client Services Director
Striking Cultural Mix
Quite tangibly Spanish, Estepona is at the same time surprisingly sedate. The approach to Estepona from the east is all dramatic twisty roads, luxurious hotels and sumptuous beach clubs, while its backdrop is highlighted by one of the coast's tallest and most striking mountains – a crimson red, perfectly conical mound of rock that glimmers in the sunlight at the heart of the Sierra Bermeja and really draws the eye.
Estepona transformed from historical fishing village and harbour town to "The Garden of the Costa del Sol"
Laidback Contentment
Even if you turn your attentions toward Estepona as you drive past, the distant silhouette of Gibraltar in one direction, or the awe-inspiring sweep of the northern Costa del Sol in the other, instantly grabs your eye. Fronting a wide, sweeping beach that stretches the length of the town, Estepona's charming boulevards, beautiful plazas and inescapably Spanish atmosphere act as a breath of fresh air.
In recent years the municipality has also promoted itself as the "Garden of the Costa del Sol", transforming the historic centre with a beautification project that has involved adorning walls with murals, planting one million flowers, bedecking streets with hanging flower pots and undertaking a significant pedestrianisation of the streets – as well as opening a stunning Orchidarium.
The town is a former fishing village that has grown organically over centuries, rather than rapidly over decades. As a result, it has a settled air to it: a laidback sense of contentment, a thriving business hub, a fully-functioning industrial network and a major fishing harbour.
Day-Time Pursuits and Evening Pleasures
Every Sunday morning, throughout the year, the colourful local market takes over the harbour and its surrounding streets and alleys. While the same market can be found in Marbella on Mondays, San Pedro on Thursdays and Nueva Andalucía on Saturday mornings, Estepona is essentially its spiritual home.
For many expats, it is the only time they visit the resort. Sure, they could visit one closer to their home, but there's something about the Estepona version that is so much more alluring. While not quite the tumultuous organised chaos of a Marrakesh market or an Istanbul bazaar, the sights, smells and sounds of Estepona's market make for a highly enjoyable experience – a wonderful assault on the senses.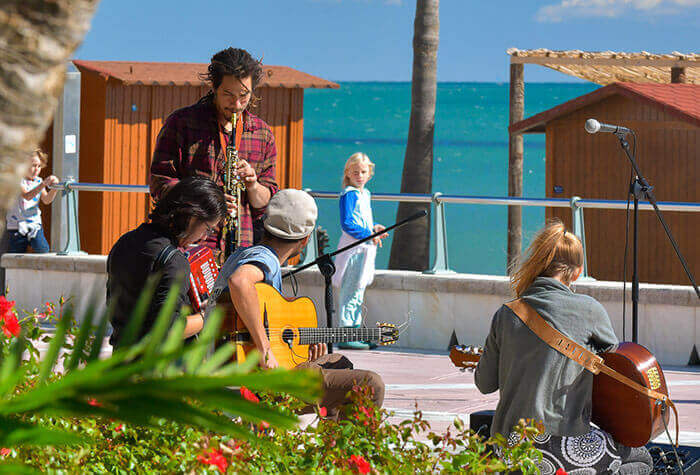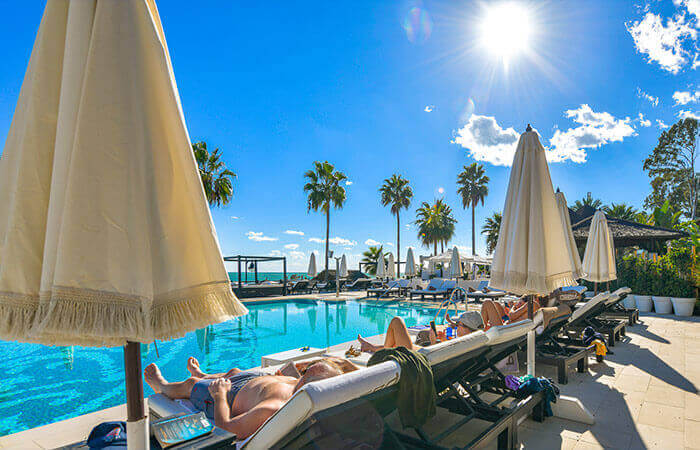 Chilled-Out Modernity
The gleaming promenade offers secure and convenient underground parking, adding a touch of modern-day efficiency to this most chilled-out of Spanish towns. The eastern and western outskirts of the municipality are markedly different. To the east – which is closer to Marbella and the more robust "heart' of the Costa del Sol – there is a surfer-style beach and the chic Laguna Village beach club and shopping centre, as well as the Selwo Aventura animal park; while the more remote western fringe is home to the fishing harbour, tapas bars, flamenco bars, residential towers and (further outside town) golf courses.
Friendly Ambience
The difference is quite striking, yet Estepona is comfortable with both. Convenient, friendly and delivering a great mix of Spanish culture and international influences, Estepona has it all. The central plaza, in the heart of the old town, is perhaps its most appealing attraction, where a strong coffee, a good book and a pair of sunglasses are all you need for a perfect day.
Estepona is home to a good number of late-night clubs and bars. Residents rarely feel the need to travel to Marbella or Puerto Banús for their evening entertainment, which is a testament to the impressive variety on offer in the heart of Estepona. While most establishments are quite Spanish, there are inviting "expat"-style bars complete with snooker tables, karaoke nights and all the trappings of "home".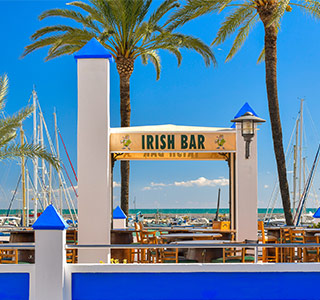 Eating out in Estepona is highly affordable and immensely enjoyable. The town has some of the area's finest fish and seafood restaurants at the harbour, which is also a great spot for an evening stroll and a quiet drink with friends. In the main plaza, patrons of the numerous bodegas, tapas bars and cafés that ring the square converge into one happy and peaceful mass each weekend, lending the town a jovial charm.