R2693963
Business for sale in Estepona
Great Local for any Business in Estepona port area AVD PUERTA DEL MAR, Costa del Sol.
Built 85 m². (There is two different shops or offices in the same property) Potential income for rent because each one is 500€ a month (more or less.....)
Facade. 8m2.


Setting : Town, Commercial Area, Close To Golf, Close To Port, Close To Shops, Close To Sea, Close To Town, Close To Schools, Close To Marina.
Orientation : West.
Condition : Excellent.
Pool : Children`s Pool.
Climate Control : Air Conditioning.
Views : Urban.
Features : Marble Flooring, Double Glazing, Near Church.
Furniture : Not Furnished.
Category : Bargain, Cheap, Investment, Resale, Contemporary.
Read more
Read less

Greig Hayes
Client Services Director
Area Info: Estepona Guide
Una sorprendente mezcla cultural
Aunque típicamente española, Estepona es a la vez sorprendentemente tranquila. El acceso a Estepona desde el Este está repleto de caminos sinuosos, hoteles lujosos y suntuosos clubes de playa, mientras que su telón de fondo está resaltado por una de las montañas más altas y llamativas de la costa, un montículo de roca de color rojo carmesí perfectamente cónico que brilla a la luz del sol en el corazón de la Sierra Bermeja, y que realmente llama la atención.
Estepona se transformó de pueblo pesquero histórico y ciudad portuaria a "El Jardín de la Costa del Sol"
Un Placer Relajado
Incluso si fija su atención en Estepona al pasar con el coche, al instante le llamará la atención la lejana silueta de Gibraltar en una dirección, o el impresionante barrido de la Costa del Sol norteña en la otra. Frente a una amplia y extensa playa que se extiende a lo largo del pueblo, los encantadores bulevares de Estepona, las hermosas plazas y el ineludible ambiente español actúan como un soplo de aire fresco.
En los últimos años, el municipio también se ha promocionado como el «Jardín de la Costa del Sol», transformando el centro histórico con un proyecto de embellecimiento que ha supuesto adornar las paredes con murales, plantar un millón de flores, adornar las calles con macetas colgantes y realizar una importante peatonalización de las calles, además de abrir un impresionante orquidario.
El pueblo es una antigua aldea de pescadores que ha crecido orgánicamente a lo largo de los siglos, en lugar de rápidamente durante décadas. Como resultado, tiene cierto parecido al mismo: una sensación de satisfacción relajada, un centro de negocios próspero, una red industrial en pleno funcionamiento y un importante puerto pesquero.
Actividades Diurnas y Placeres Nocturnos
Todos los domingos por la mañana, durante todo el año, el colorido mercadillo local se apodera del puerto y de las calles y callejones que lo rodean. Si bien se puede encontrar el mismo mercado en Marbella los lunes, en San Pedro los jueves y en Nueva Andalucía los sábados por la mañana, Estepona es esencialmente su hogar espiritual.
Para muchos expatriados, eta es la única vez que visitan el complejo. Claro, podrían visitar uno más cercano a su casa, pero hay algo en la versión de Estepona que lo hace mucho más cautivador. Si bien no es el caos tumultuoso organizado de un mercado de Marrakech o de un bazar de Estambul, las vistas, los olores y los sonidos del mercadillo de Estepona lo convierten en una experiencia muy agradable: un maravilloso asalto a los sentidos.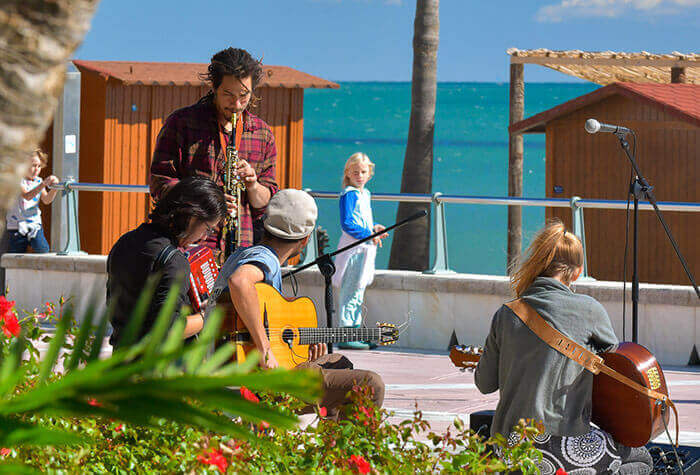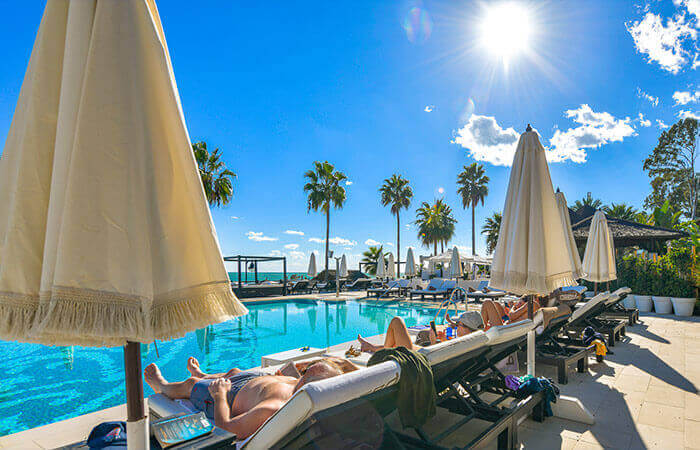 Modernidad Relajada
El reluciente paseo marítimo ofrece un aparcamiento subterráneo seguro y cómodo, lo que añade un toque de eficiencia moderna a uno de los pueblos españoles más tranquilos. La periferia oriental y occidental del municipio es muy diferente. Al Este, que está más cerca de Marbella y es el «corazón» más sólido de la Costa del Sol, hay una playa de estilo surfista y el elegante club de playa y centro comercial Laguna Village; mientras que en la franja occidental más lejana se encuentran el puerto pesquero, bares de tapas, bares de flamenco, torres residenciales y (más allá del pueblo) campos de golf.
Ambiente Amigable
La diferencia es bastante llamativa, pero Estepona se siente cómodo con ambas. Cómodo, amigable y con una gran mezcla de la cultura española e influencias internacionales, Estepona lo tiene todo. La plaza principal, que se encuentra en el corazón del casco antiguo, es quizás su atractivo más cautivador, donde un café bien cargado, un buen libro y unas gafas de sol son todo lo que necesita para un día perfecto.
Estepona es el hogar de un buen número de clubes nocturnos y bares. Los residentes rara vez sienten la necesidad de desplazarse a Marbella o a Puerto Banús para su entretenimiento nocturno, lo que es un testimonio de la impresionante variedad que se ofrece en el corazón de Estepona. Si bien la mayoría de los establecimientos son bastante españoles, hay bares de estilo «expatriado» con mesas de billar, noches de karaoke y todos los adornos del «hogar».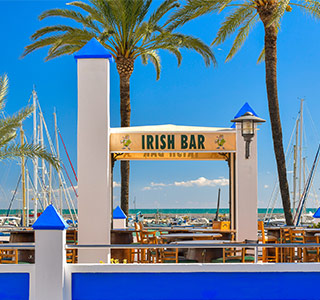 Cenar fuera de casa es muy asequible e inmensamente agradable en Estepona. El pueblo tiene algunos de los mejores restaurantes de pescados y mariscos de la región en el puerto, que también es un gran lugar para dar un paseo nocturno y para tomar una copa tranquilamente con los amigos. En la plaza principal, los clientes de las numerosas bodegas, bares de tapas y cafeterías que la rodean convergen en una alegre y pacífica aglomeración cada fin de semana, lo que aporta al pueblo un encanto jovial.