R3271672
Apartment for sale in Fuengirola
'Beautiful apartment very renovated one step from the center of the city and 9 minutes walk from the beach. In one of the best areas of Fuengirola. A relatively new neighborhood with modern design. With supermarkets, shops of all kinds, institute, schools, weekly market of the Exhibition Center next door.
The apartment was completely renovated by putting floating flooring on the floor and facing a complete reform of the kitchen that as you can see in the photographs is really beautiful. The reform allowed to take advantage of all its square meters by eliminating all the corridors. The living room after incorporating the terrace inside it has about 40 meters. If whoever purchases it wants to have a large room of 25 meters and keep the initial terrace would have to glaze the division without works of any kind. The floor has a lot of light in all rooms for having large windows and in particular the living room is covered on one side by a magnificent window.
The very, very spacious suite with dressing room that we left furnished, also has a large built-in cupboard with three doors and a full bathroom inside and many windows which gives it a tremendous luminosity.
The kitchen recently renovated with all appliances (Included for sale) has office area as it fits a table and chairs and allows the comfort, if desired, to eat in it.
The two bathrooms that the house has are complete, both with bidet and large bathtub and are in perfect condition without needing any reform.
The property has an elevator and has a very well equipped pool for the exclusive use of the neighbors who are few. Also within the price is a small storage room located in the upper area of ??the building and that is for each neighbor's personal use (Each neighbor has one with a key).
A magnificent property to live at two steps from the beach but with the amplitude that gives a floor of 120 square meters and the comforts that are supposed to have at street level all the services.
Read More
Read less
Built

100 m2

Bedrooms

2

Bathrooms

2

Claudia Heynemann
Customer Services
Warmly Welcoming
Striking the right balance between expat convenience and Spanish authenticity, Fuengirola delivers an intriguing melting pot of cultures, where it is not uncommon to see British, Irish, Nordic and German inhabitants mingling with the local Spanish population, creating a cultural cocktail that is almost unique on the Coast.
...is not uncommon to see British, Irish, Nordic and German inhabitants mingling with the local Spanish population, creating a cultural cocktail that is almost unique on the Coast
While fast-food cafés are highly visible, their numbers are more than matched by traditional tapas bars, classic chiringuitos, inviting Irish pubs and a fair collection of Scandinavian bars and eateries.
A look inside any one of the aforementioned establishments will also surprise – the clientele is equally diverse and eclectic, with both holidaymakers and locals at ease with one another, lending the entire town a warmth that is unusual for such an ostensibly transient destination.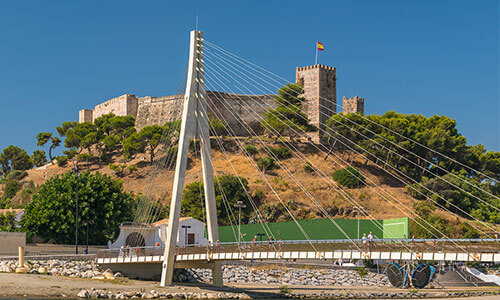 Amicable Charm
Easily accessible, bathed in beautiful sunshine for pretty much 10 months of the year, affordable and lively, Fuengirola's unassuming reputation belies its undeniable charm. While Marbella is perhaps easier on the eye and Puerto Banús has a more glamorous nightlife, Fuengirola's everyman appeal is its main strength.
Nowhere is too exclusive or financially prohibitive, the streets are clean, the people are friendly, and the commercial and cultural variety on offer is as good as anywhere else on the Costa del Sol. Add a lengthy beach, a wide promenade and some exceptionally well-priced properties, and you have the ingredients for a pretty fine place in the sun.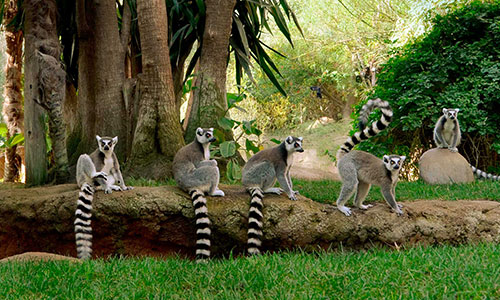 Day-Time Pursuits and Evening Pleasures
In Fuengirola, there is much more on offer than just beach and bars, particularly for younger members of the family. The Biopark zoo is a brilliant example of clever design in a tight space.
Surrounded by residential apartments, the zoo provides a home for a wide selection of species, does some sterling conservation work and is a wonderfully distracting day out for all the family.
Mijas Aquapark (on the town outskirts) is another attraction that offers great fun for all the family. It is open from early June until late September, but try to avoid the weekends at the height of summer. The park has plenty of slides, pools, jacuzzis, and bathing and shaded areas for all ages.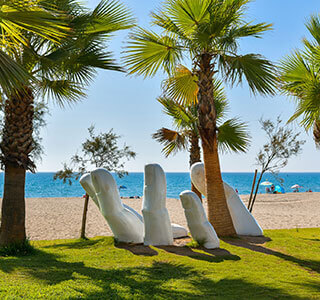 Along the promenade, Fuengirola exhibits a decidedly tourist atmosphere. This vast stretch is dotted with gift shops selling trinkets, beach equipment, sun lotions, magazines, newspapers and ice creams, alongside bars and cafés ranging from pizza parlours and all-day-breakfast establishments to bistros, a la carte restaurants and chiringuitos specialising in the freshest fish and seafood.
At the western end of the beach is the imposing Sohail Castle, which affords some lovely views over the surrounding bay, and is the venue for summer concerts by top Spanish and international artists; while, slightly inland, is Miramar Shopping Centre – a huge mall with a cinema screening original-version films.
Laidback Los Boliches
For a more traditional slice of the town, Fuengirola's Los Boliches area, built around the old fishing port, offers a laidback atmosphere augmented by narrow streets, traditional dining mesons and quaint cottages. In May, Fuengirola hosts its famous Feria Internacional de los Pueblos, actively inviting nations from all over the world to promote their own cultures.
There is no central hub of nightlife activity in Fuengirola. Instead, the resort's organic growth has created a steady offering of late-night venues spread throughout the town. While the cafés, bars and eateries along the promenade are always busy during the summer months, their combined efforts do not quite constitute a "strip" of bars and clubs to match those found in Puerto Banús or Benalmádena.
Instead, Fuengirola is more like Marbella in the sense that there is plenty of choice – spread out.
Aside from the clubs and pubs, a night out in Fuengirola could constitute a moonlit stroll around the grounds of the castle, a movie at the Miramar Cinema, a languid meal at one of the many superb tapas establishments, or a few glasses of wine on the bustling Constitution Square.