R2916851
Restaurant for sale in Fuengirola
Grand Boho Thai Mediterranean style luxe restaurant, themed with exquisite and luxurious decoration, with furniture and decorative elements of Balinese, Thai and Filipino origin, and a "fork restaurant" category.
Located in the tourist heart of Fuengirola, at the heart of the restoration, and in a pedestrian street in the center: a very attractive strategic location for national and international investors in first class restaurants.
With only one year since the completion of the original project, it is delivered 100% equipped for a full-function operation and an immediate start-up.
It is located in a building of local architectural style, under a single house that may be available for rent. The premises are available for rent and a 10 year lease is leased from the premises with a competitive rental price of 50% below the market price in the area [10-15 € / m2] and guaranteed rent + 10% according to LAU, although the whole of the building is available for sale if out of interest.
The restaurant is developed on two floors, connected by an exclusive elevator, with bar area with Lumon type glassware practicable outdoors on a pedestrian street covered with motorized awnings [9mx 2m] and opening by command, professional kitchen, patio dining room Covered automated and motorized, perimeter rooms and sommelier area with refrigerated cava, employee's office, cleaning, warehouse area and closed private private parking, with access from the street for loading / unloading.
Upstairs are 5 private dining rooms that can be joined together according to needs, with a VIP waiting area, public toilets, and office management and control. Its built areas are: 234 m2 on ground floor, 50 m2 patio, and 154 m2 on first floor, that is, 438 m2 built. The surface of terrace on the street is 70 m2, which makes a total of 508 m2 of business and operating area.
It has a Premium heated cellar for 624 bottles of wine [13º / 16º thermostat] made of pine wood and insulation glazing, with LED lighting.
The bar area has an installation of 3 taps connected to beer reserve barrels, in tank, with a capacity of 400 liters.
The restaurant has all the professional catering equipment, professional stainless steel body cooker with high performance gas burner and cast iron grill and fat collection tray, fryer, panoramic oven, refrigerated table, vertical freezer, dishwasher , Dishwasher, wall-mounted smoke hood and work tables, vacuum packer, etc.
The establishment has all the necessary service supplies of water, natural gas, telecommunication, installation of split air conditioning, with heat / cold pump 6966 Frig / h. 8.772 Kcal / h, extraction and renovation of air, installation of plumbing and industrial sanitation, as well as a monitored installation 365x24 alarm and video security.
With respect to its documentation, this is complete, with its corresponding Technical Project, Municipal License of Work and Opening, authorization of the Regional Government of Andalusia: Industry, Health, environmental qualification, acoustic agreement; Permission of the City Hall, as well as its inventory of furniture, industrial equipment for catering and cuisine, industrial refrigeration, with its characteristics sheets and guarantees, as well as contracts in force with distributor of beverages, coffee, maintenance, etc.
Information about the business available on request [LOI] and written confidentiality: analysis of profitability, accounts, operating balance, bank pool, etc.
In short, an interesting asset with many possibilities for a client who wants to make an investment in hospitality through a real estate investment with an interesting route and high possibilities of revaluation and business, with a demonstrable high profitability.
Read more
Read less

Helena Monks
Customer Services
Area Info: Fuengirola Guide
Warmly Welcoming
Striking the right balance between expat convenience and Spanish authenticity, Fuengirola delivers an intriguing melting pot of cultures, where it is not uncommon to see British, Irish, Nordic and German inhabitants mingling with the local Spanish population, creating a cultural cocktail that is almost unique on the Coast.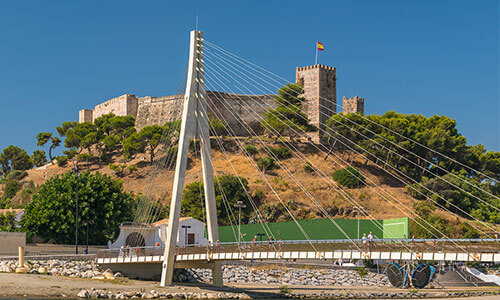 While fast-food cafés are highly visible, their numbers are more than matched by traditional tapas bars, classic chiringuitos, inviting Irish pubs and a fair collection of Scandinavian bars and eateries.
A look inside any one of the aforementioned establishments will also surprise – the clientele is equally diverse and eclectic, with both holidaymakers and locals at ease with one another, lending the entire town a warmth that is unusual for such an ostensibly transient destination.
Amicable Charm
Easily accessible, bathed in beautiful sunshine for pretty much 10 months of the year, affordable and lively, Fuengirola's unassuming reputation belies its undeniable charm. While Marbella is perhaps easier on the eye and Puerto Banús has a more glamorous nightlife, Fuengirola's everyman appeal is its main strength.
Nowhere is too exclusive or financially prohibitive, the streets are clean, the people are friendly, and the commercial and cultural variety on offer is as good as anywhere else on the Costa del Sol. Add a lengthy beach, a wide promenade and some exceptionally well-priced properties, and you have the ingredients for a pretty fine place in the sun.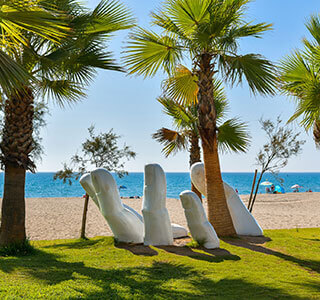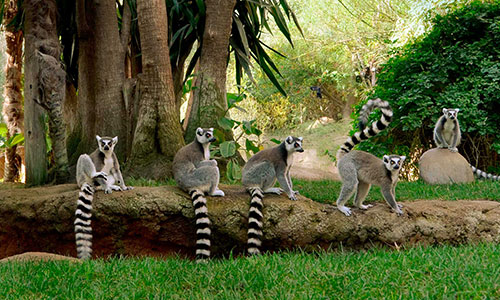 Day-Time Pursuits and Evening Pleasures
In Fuengirola, there is much more on offer than just beach and bars, particularly for younger members of the family. The Biopark zoo is a brilliant example of clever design in a tight space.
Surrounded by residential apartments, the zoo provides a home for a wide selection of species, does some sterling conservation work and is a wonderfully distracting day out for all the family.
Mijas Aquapark (on the town outskirts) is another attraction that offers great fun for all the family. It is open from early June until late September, but try to avoid the weekends at the height of summer. The park has plenty of slides, pools, jacuzzis, and bathing and shaded areas for all ages.
Along the promenade, Fuengirola exhibits a decidedly tourist atmosphere. This vast stretch is dotted with gift shops selling trinkets, beach equipment, sun lotions, magazines, newspapers and ice creams, alongside bars and cafés ranging from pizza parlours and all-day-breakfast establishments to bistros, a la carte restaurants and chiringuitos specialising in the freshest fish and seafood.
At the western end of the beach is the imposing Sohail Castle, which affords some lovely views over the surrounding bay, and is the venue for summer concerts by top Spanish and international artists; while, slightly inland, is Miramar Shopping Centre – a huge mall with a cinema screening original-version films.
Laidback Los Boliches
For a more traditional slice of the town, Fuengirola's Los Boliches area, built around the old fishing port, offers a laidback atmosphere augmented by narrow streets, traditional dining mesons and quaint cottages. In May, Fuengirola hosts its famous Feria Internacional de los Pueblos, actively inviting nations from all over the world to promote their own cultures.
There is no central hub of nightlife activity in Fuengirola. Instead, the resort's organic growth has created a steady offering of late-night venues spread throughout the town. While the cafés, bars and eateries along the promenade are always busy during the summer months, their combined efforts do not quite constitute a "strip" of bars and clubs to match those found in Puerto Banús or Benalmádena.
Instead, Fuengirola is more like Marbella in the sense that there is plenty of choice – spread out.
Aside from the clubs and pubs, a night out in Fuengirola could constitute a moonlit stroll around the grounds of the castle, a movie at the Miramar Cinema, a languid meal at one of the many superb tapas establishments, or a few glasses of wine on the bustling Constitution Square.