R2804927
Townhouse for sale in Guaro
Built

173 m2

Beds

4

Baths

1

Terrace

91m²
A true Andalusian townhouse at the edge of a true Andalusian village.
In Andalusia, the facade remains silent about what you can find inside it. The door to this house definitely does not give away what a solid and large house you are walking into to.
Solid as a rock, this house of a traditional Andalusian family is ideal for the long hot summers: everything is centered around a patio that allows you to live outside without leaving the house, while fully protecting your privacy and tranquility.
Two roof top terraces make your feel of space complete.

The house is right at the end of the village. Your front door is in the village, and the countryside starts at the back of the house.
So from one terrace you have views over the village, and from a second terrace you look into 'campo'.
This also means that you can walk into the countryside in a matter of minutes, as well as the house is easy to get to by car.

Right now there are 4 bedrooms, an open kitchen, a small lounge, as well as a lovely extra lounge area - with chimney - on the 3rd floor.
This latter room is a great place to start your life in this castle like house, while you renovate the house up to your taste or to the standards of 2016.

Town water only being connected in 1978 (before, people walked to the nearest fountain) and having a bathroom being a luxury from the 1980s, combined with the Andalusian sense of living in group, it is typical for family townhouses to have 1 bathroom only.
We think this house can be a great 'Riad style' mansion - or is right for people who really love the Andalusian lifestyle.
Read more
Read less
Built

173 m2

Bedrooms

4

Bathrooms

1

Terrace

91m²

Victoria Atkins
Customer Services
Mediaeval Roots
As the self-styled "Almond Paradise", Guaro leaves little doubt about what it sees as its main asset. Located deep within Guadalhorce Valley, the municipality is covered in almond plantations (plus olive groves) that not only provide the locals with their main source of collective income but also give the village a modern sense of identity to appeal to tourists who are spoilt for choice when it comes to choosing a "typical Andalucian pueblo" to visit.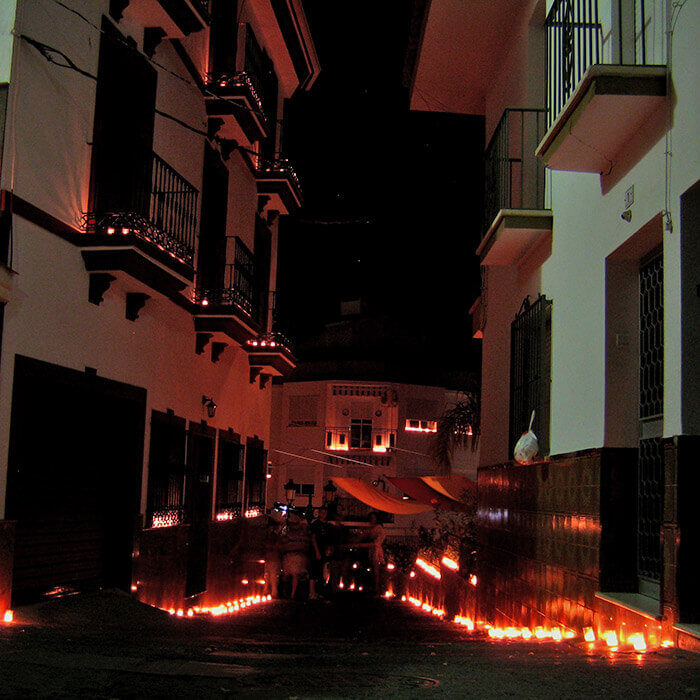 Then there is the Festival de la Luna Mora (Moorish Moon). Held in September, the event commemorates the village's mediaeval history, Andalus culture, and Christian, Moorish and Sephardic religious roots. With 25,000 candles spectacularly illuminating the town, visitors are treated to pastries, green tea, centuries-old music and a bazaar in the main square selling artisanal products.
At other times of the year, tourists can mingle with the town's 2,000 residents and check out such intriguing sites of historical interest as the 16th century Saint Michael parish church; while beyond the village are several excellent hiking trails. If you have the time, a drive into the mountains takes you deep into semi-wilderness territory – ideal for those wanting to truly get away from it all.
Apart from festival week, not much happens in Guaro in the evenings, apart from the customarily pleasant village staples of inexpensive wining and dining, convivial local company and listening to the soothing soundtrack of distance wildlife in the surrounding valleys.