R2780177
Detached villa for sale in Mijas Costa, Mijas
Built

230 m2

Beds

3

Baths

2

Terrace

75m²

Plot

980 m2
Bright villa in El Chaparral

This three bedroom villa is located at the perfect spot. Just 25 minutes from Malaga airport, 5 minutes from both Fuengirola and La Cala de Mijas, and just a couple of minutes walk to the beach (300m) and golf course of El Chaparral. What means proximity to supermarkets, schools, banks, health centers, leisure areas, etc. There are also bus stops a few minutes away both to Fuengirola and Marbella.

The house itself has a main floor, handicap accessible,with a large kitchen, a very bright dinning room with great views, a cozy lounge with minibar, two good sized bedrooms and one bathroom .
Without leaving the house you get into the "Relax area" with sauna and Jacuzzi, both indoor.

Going up to the first floor, and with the possibility to install a small domestic elevator, is the master bedroom which was added to the house in 2008. It was made conscientiously, has large wardrobes, an amazing sized bedroom with a bathroom in proportion to the bedroom. The master bedroom also has direct access to a covered and private terrace with spectacular sea views.

The ground floor leads directly to the barbecue area and to the pool with a covered pergola. Down some stairs from the pool you get to a big but easy maintained garden.

Other extras to consider are the two private garages with automatic doors, 3 extra parking spaces outside, solar panels and central heating throughout the house !!

It is the perfect home for all types of profiles because of the good area and the distribution of housing.

Do not hesitate to make an appointment with us to visit it!!
Read more
Read less
Built

230 m2

Bedrooms

3

Bathrooms

2

Terrace

75m²

Plot

980 m2

Victoria Atkins
Customer Services
Breathtaking Vistas
Official figures show that 12 million tourists currently visit the Costa del Sol every year. Clearly, each area on the Coast is keen to play host to as many of these visitors as possible – but some are better equipped than others. One of them is Mijas Pueblo, which has a highly tangible tourist presence all year round.
Mijas laidback beauty, sublime climate and magnificent views create an atmosphere that is best accompanied by a glass of chilled wine
At first glance, this might paint Mijas as a caricature of the classic whitewashed pueblo, but the town has much more to offer than a picture-postcard setting, breathtaking vistas and shops selling tourist trinkets and ornaments.
In an architectural and cultural sense, Mijas strikes just the right balance between tourist destination and residential functionality. Located just inland from Fuengirola, the town is highly accessible and amazingly picturesque, proving particularly popular with older tourists and homebuyers.
It is not hard to understand why: the town's laidback beauty, sublime climate and magnificent views create an atmosphere that is best accompanied by a glass of chilled wine, a dusky horizon and the relaxing orchestral sounds of local wildlife, calling time on another day in paradise.
Other-Worldly Silence
During the winding climb to Mijas from Fuengirola, you experience many changes in just six kilometres. Most noticeably, the hustle and bustle of the coast fades to a distant hum, while the roadside gives way to rockier outcrops as you ascend the side of one of the Costa del Sol's numerous peaks.
Entering Mijas, the blinding whiteness of the alabaster-pale buildings is a striking sight, especially when the searing sun is at its highest. Cafés, bars, restaurants and gift shops compete for your attention, yet it is the authentic beauty of the religious shrine, perched on its own rocky pedestal, that first draws the eye.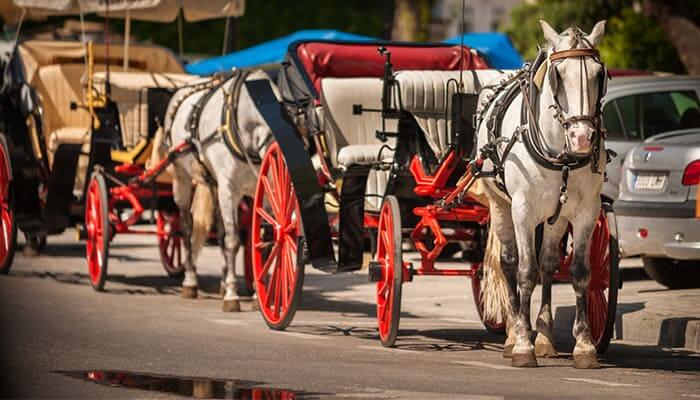 Gorgeous views of the coastline can be enjoyed from pretty much every vantage point in town, with the other-worldly silence of the mountainside providing an effective sound barrier.
Mijas's location makes it a favoured weekend retreat for many locals from the coast, while the short drive to the airport means it is an appealing destination for expats seeking a peaceful and convenient area to purchase their dream home in the sun.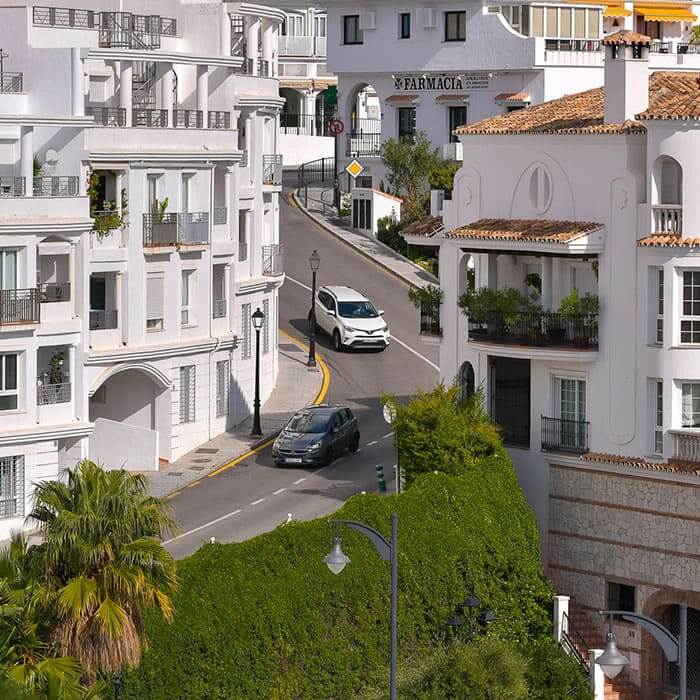 Day-Time Pursuits and Evening Pleasures
The cultural wealth of Mijas is evident from the moment you first set foot outside and into the ephemeral sunlight. Ignoring the views – which is difficult – Mijas's beauty lies in its quaintness. Its compact size and hilly location posed challenges for architects many centuries ago, but the result is spectacular.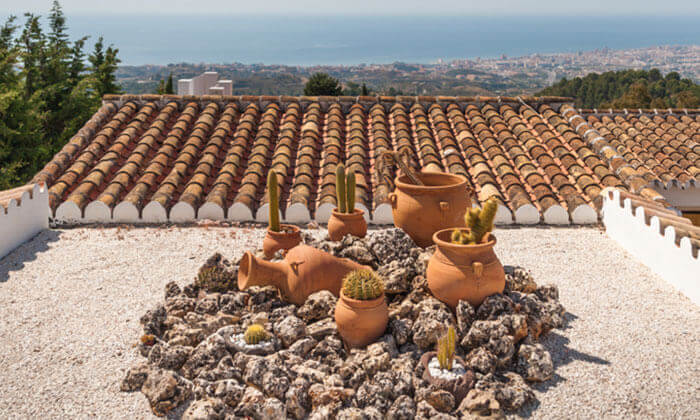 Tiny square houses cling to the landscape like fluff on a sweater, creating a backdrop of scattered, whitewashed walls and red-tiled roofs that looks great on a postcard.
Around the central square there are cafés with excellent "menú del día" offerings that, while ostensibly aimed at tourists, are great value and attract locals, expats and visitors alike. The old bullring is one of the most captivating in Andalucía, while equally diverting is the Mijas Wine Museum, with its daily tastings and the chance to learn all about Mijas's small but growing wine industry.
Enriching Cultural Experiences
Once suitably imbibed, a trip to the Casa Museo is an enriching experience, where you can discover the town's Roman roots, agricultural past and recent boom as one of southern Europe's iconic tourist destinations. The town's commercial centre has boutiques, jewellery stores and restaurants, in addition to banks, grocery stores and pharmacies.
Handily for expats, the town hall has its own "Foreigners Department", where non-Spanish speakers can request assistance and advice in their own languages. Once the paperwork has been filled in, the children packed off to school, the local doctor met and the food shopping completed, Mijas's stunning gardens will beckon you, serenaded by birdsong while enjoying the welcome sunshine and pervading sense of peace.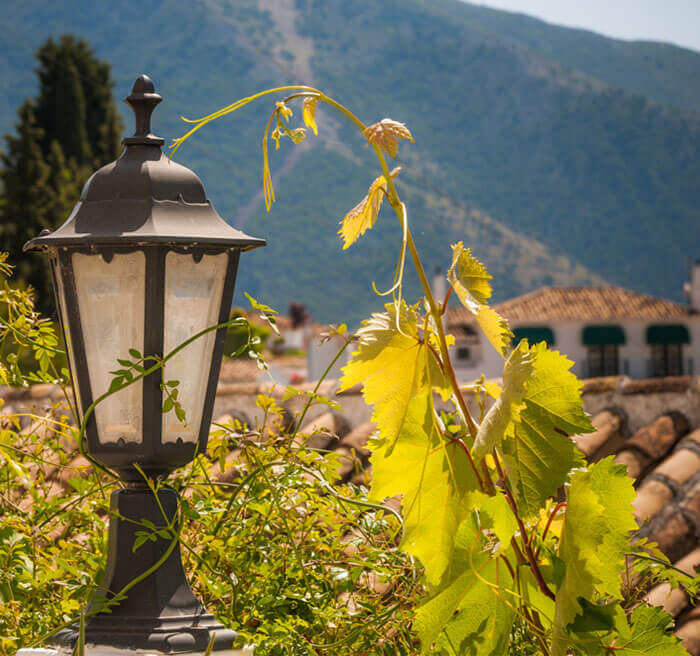 For evening pleasures, Mijas hosts a diverse array of festivals and events during the year, showcasing music, drama, art, handicrafts and gastronomy.
The sparkling runway of lights that forms the backbone of the Costa del Sol twinkles spectacularly below, enticing walkers out on to Mijas's pristine streets for a night-time stroll; while the inviting cosiness of the many bars and cafés dotting the town proves irresistible, transforming its daytime tranquillity into a more social ambience in the evening.
The absence of nightclubs is explained by the town's proximity to Fuengirola, ensuring the weekend diaspora of younger folk leave Mijas free to be enjoyed by those seeking a more sedate and leisurely evening – where the wine flows as freely as the contented smiles.