Continental Design:
Bespoke interior design specialists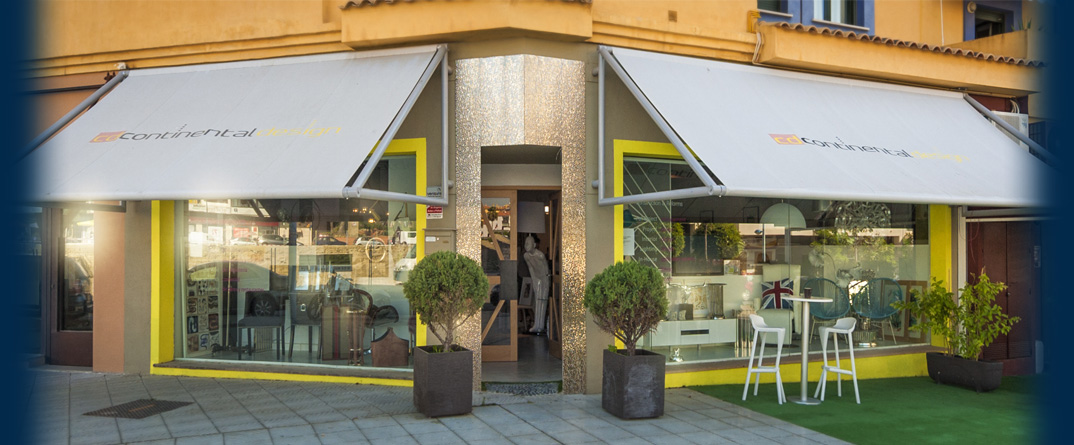 A sense of style and panache second to none
About Continental Design
With offices in Marbella and Gibraltar, Continental Design has the Costa del Sol covered. Whether it's an interior overhaul of your villa, townhouse or apartment, a complete reform of a commercial premises, or even an integrated construction project, Continental Design will follow your instructions to the letter.
What Continental Design can do for you
We are experts in:
Construction & Reform
Full Project Management
Project Design
Interior Design
Lighting Design
In-House Upholstery Service
Shop Fitting
Bar & Restaurant Fit Out
Residential
With years of success and numerous satisfied customers to our name, Continental Design's residential department delivers unrivalled expertise. We can cover the total reform of apartments, villas, townhouses and anywhere else you call home and create your dream interior setting. Your brief to us can be as detailed or minimalist as you wish, and whatever your budget or time scale, you can be sure that we will stick to it.
Commercial
The Costa del Sol boasts some stunning bars, clubs, restaurants, shops and hotels. And yes, it is no coincidence that Continental Design has been behind many of these stylish renovations. If you own commercial premises that are in need of a little TLC, décor update, extension or complete renovation, then give us a call – our strength lies in our ability to take on any project, big or small.
Construction
The construction and reforms department at Continental Design boasts an impressive portfolio of ambitious and unique projects completed on time and within budget. We directly employ trusted professionals headed by an in-house architect, engineer, quantity surveyor and project manager with many years' experience heading projects in London, Northern Europe, Kuwait and Dubai.
What can Continental Design do for you?
Innovation, the way you want it
The team at Continental Design boasts two key strengths: the ability to listen intently to what our clients want, and the vision to accurately and innovatively realise those design desires on time, and on budget.
Plans, elevations, 3D images and detailed quotations for your approval
Wealth of experience
With an in-house architect, quantity surveyor, engineer, project manager and dedicated design team, Continental Design has seen and done it all. Whatever reform, décor or design work you want doing, the team can draw upon its wealth of experience to ensure your dreams become a stylish reality.
One point of contact
The last thing you want when commissioning an ambitious interior design project is confusion, stress or loose ends. Which is why Continental Design assigns you a single point of contact – from consultation right through to completion. We understand how important it is to have complete confidence in the team, so ask us anything, and call us any time.
Unrivalled local knowledge
From sourcing the most cost-effective materials and recruiting the most reliable suppliers, to knowing the subtle design differences and taste preferences that exist along the Costa del Sol, Continental Design's expert local knowledge is put to excellent use on every job.
Style, every time
Continental Design will follow your instructions to the letter, but will do so with a sense of style and panache that few can match. If you can envision it, Continental Design can make it a reality. And if you can't? Not to worry – we're designers who love our job and love a challenge!
"Our strength lies in listening to the client, translating their needs into presentations, following the budget and being quick and careful about detail."
Five reasons to choose Continental Design
1. You can talk to us
We're no faceless corporation. At Continental Design you can chat to our staff whenever is most convenient for you, and the best thing is, we listen to what you want.
2. You can rely on us
There is nothing we hate more than running over time and over budget, so we don't allow it to happen. Our work is carried out to the highest of standards and planned to precision – ensuring we do what we say we will, when we say we will.
3. Experience and local knowledge
Sure we're friendly, and yes we boast a wealth of international experience, but we also work to exacting standards to ensure we deliver the best possible service, coupled with unbeatable local knowledge.
4. Complete peace of mind
Continental Design offers full project management throughout. There are no loose ends, no unfinished jobs, no questions left unanswered and no hidden costs.
5. It's all about style
Let's face it, everybody wants the most stylish home, shop, bar or business. We share that passion and are committed to ensuring every job pushes the style envelope as far as it will go. And then some.
Contact Us
We Speak:
Contact details
Phone:
+34 952 900 313
Fax:
+34 952 776 639

Email:
info@continentaldesign.co.uk
Address:
Urb. Nueva Alcántara,

Edif. Mirador
Bloque 6 - Local 3 Bajo
29670 San Pedro de Alcántara