Helle Hollis Home Owners' Club
Get 15% discount on your car hire and FAIR fuel policy!
If you're looking for stress-free car hire when you arrive at Málaga Airport, then Helle Hollis car rental is your right choice!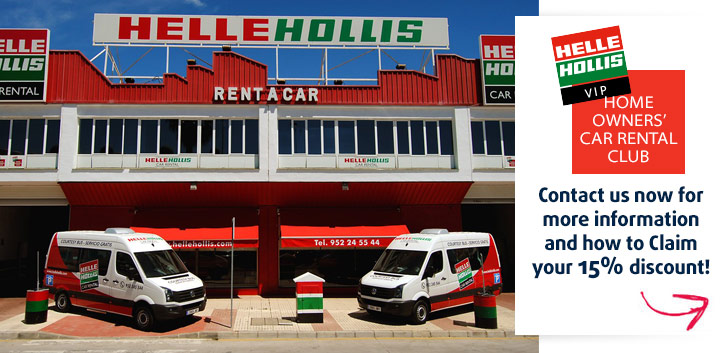 As a holiday home owner or a resident you can join the Helle Hollis Home Owners' Club – and benefit from our many Home Owners' Club advantages:
- 15% discount on the car hire
- Accumulate an additional 10% bonus discount for next years use
When family or friends use your club number when they visit they will benefit from 15% discount and you will accumulate a 10% bonus (value of discounted group C rate) for next year. This could end up with a free car hire or you can use it at our public car park when parking your private car.
- FAIR FUEL POLICY
You always have 100% flexibility with Helle Hollis as it's you who decides how you wish to return the car. If returning the car with a full tank then we will refund the whole amount, or you can return with half a tank and we refund for the remaining half. Helle Hollis will always refund you for every remaining full-quarter of a tank.
- Fast Lane Service
No waiting time when you pick up your rental car. Helle Hollis
prepares the contract in advance and you only have to sign the contract upon arrival after showing your licence.
- Free extra driver

- Free Upgrade offer to a bigger car group
- Early bird discount for booking in advance
It is FREE and easy to sign up - Just click here
Helle Hollis is one of the leading local car hire companies on the Costa del Sol with over 35 years of experience. We offer quality car hire at affordable rates and always give a little extra for our clients. With us, you will find free WI-FI in our waiting areas and also a service computer point where you can print your boarding card before departure.
We care about our customers needs giving a personalized service to make you feel at home each time you come to pick up your car. We listen to our customers, so take a look at our website to see what our customers say.
Find us at:
Helle Hollis car rental
Avda. García Morato nº 14-18
29004 Málaga
Branch office in Fuengirola:
Calle Lamo de Espinosa,
10 (Hotel PYR) – 29640 Fuengirola
www.hellehollis.com
Tel. +34 95 224 55 44
Also public
INDOOR

parking at Malaga Airport
Should you have your own car and need a place for secure indoor parking, then look no further.
Helle Hollis Parking is located next door to our Head Office where we offer you secure indoor parking with 24 hours CCTV. Our free courtesy bus service will take you and pick you up again from the airport. Book online and you will get a 15% online discount! If you park your car for a week or more, then expect to find it clean when you come back as a FREE carwash (machine) is included in the rate.


For more information:
Helle Hollis Parking
www.hellehollisparking.com
Email:
parking@hellehollis.com
Tel. 951 01 40 58 Avda. García Morato nº 18, 29004 Málaga