Linea Directa - Car Insurance Costa del Sol
Change to the best company for expatriates at the best renewal price guaranteed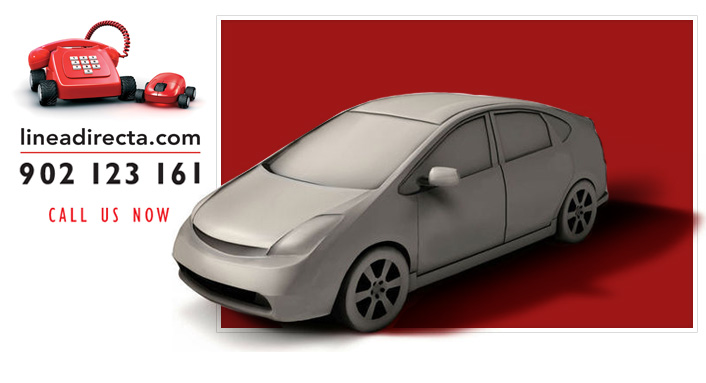 Since 1998 Linea Directa, the market leader in the sale of direct car, motorbike and home insurance in Spain, has offered an exclusive telephone service entirely in English and German. This service, the first of its kind in Spain, forms part of the company's commitment to quality and excellence, which have also made it the market leader in this business sector, due to the fact that it currently has over 63,000 foreign customers residing in Spain.
As result, services such as purchasing a policy, making enquires processing claims, sending documents and 24-hour assistance can all be carried out in English or German at a time which is convenient for the customer by making just one phone call.
This is a result of a strategy which is permanently geared towards offering customers the very best quality at the very best price.
And not only does Linea Directa offer the best, it slso offers its services at the most competitive price on the market. It does this in two ways:
Price personalisation:
Behind each quote there is a sales professional who via a quick questionnaire, will search for the best product and conditions ro suit the customer's personal requirements and will assess him or her according to their individual circumstances.
Maximum competitiveness:
Still at the best price, this month Linea Directa is making Expats an exclusive 12x11 offer, which allows them to enjoy one year of insurance for the price of 11 months. And what is more, if the person requesting this offer already has another car insurance policy with Linea Directa, then the offer will be 12x10, which is to say two months' free cover.
A Historic Referendum
On Thursday, June 23, 2016, the people of Britain voted for a British exit, or 'Brexit', from the European Union in a historic referendum. This decision has prompted jubilant celebration whilst sending shockwaves through the global economy. Over the next two years or so, Britain will negotiate its exit under Article 50 of the Treaty on European Union.
What happens after Britain exits the EU?
Through the withdrawal negotiations, nothing will change for British expats in Spain because the UK will remain part of the EU during this transitional period. However, what happens after Britain has left the EU and how this may affect you is still unclear.
Legal Assistance Service
Whilst many questions remain unanswered, Línea Directa would like to remind all its customers that its Legal Assistance service comes as standard in all their insurance policies. If you have a query you can call one of our lawyers. They offer information and advice on a wide range of matters such as taxes, purchase and rental of property, inheritance, family, etc. As the Brexit negotiations evolve, our legal team will keep abreast of all the latest developments relating to events occurring in Spanish territory and those to which Spanish legislation is applicable.
24-hour assistance for emergency legal consultations
Should you require an immediate legal consultation, which due to the gravity of the matter in hand cannot wait, we offer a 24-hour legal advice service. Regardless of the time of day, we can provide immediate specialist legal advice for emergency incidents relating to you, your family or your home.
In English
The service is entirely in English. From the drafting and revision of legal documents to negotiations with third parties and/or opposing parties. We can't provide all the answers to the questions raised by Britain's exit from the EU, but we can provide sound legal advice for our expatriate customers living in Spain.
We hope the information in this article is of interest. If you would like to contact Línea Directa please call 902 123 143.
More information on Línea Directa online at www.lineadirecta.com
SEPA. MEANS SAFE AND EFFICIENT PAYMENTS IN SPAIN.
What is SEPA?

The Single Euro Payments Area (SEPA) is making euro payments faster, safer and more efficient within the 34 EU countries. It enables customers to make cashless euro payments to anyone within the EU.
What are the ways to pay using SEPA?

1. SEPA credit transfer
A single way to transfer funds nationally or anywhere within the EU.
2. SEPA direct debit
Now charges can be made directly to an account in one EU country for services provided by a company based in another country.
3. SEPA for cards
Customers can conveniently use the same cards they use for national purchases, anywhere in Europe. Merchants will accept all cards, making payment processes easier and more attractive.
SEPA standards required for full introduction

1. IBAN
IBAN is the International Bank Account Number that identifies your account anywhere in the world. With a maximum of 34 digits it includes the following in order:
2 digits country code

2 digits check digit

30 digits (max) account identification specific to each country

UK IBAN example: GB19 LOYD 3096 1700 7099 43
2. BIC
BIC (Bank Identifier Code) numbers will be phased out for cross-border payments by February 2016.

3. PAYMENT CARDS
All payment cards will be migrated from magnetic strip to EMV chip. There is currently no date for completion.
Timeline for the SEPA process
The process began in 1999 and is now in the final migration phase.
February 2014: Credit transfers and direct debits in the EU should be carried out in accordance with the standards mentioned above. A six month transition period is being introduced.
February 2016: For niche products with specific characteristics a longer transition phase is made for in some countries.
31 October 2016: EU member states with non-euro currencies must adhere to standards set for credit transfers and direct debits in euros, by this end date.
SEPA indicators. Key facts at a glance.
SEPA credit transfers as a % of total EU transactions is 93.9%*
SEPA direct debit as a % of total transactions is 80.3%*
EMV transactions as a % of total transactions is 79.6%**
*February 2014-03-21
**June 2013