LOFT & Roomers
Nordic living for less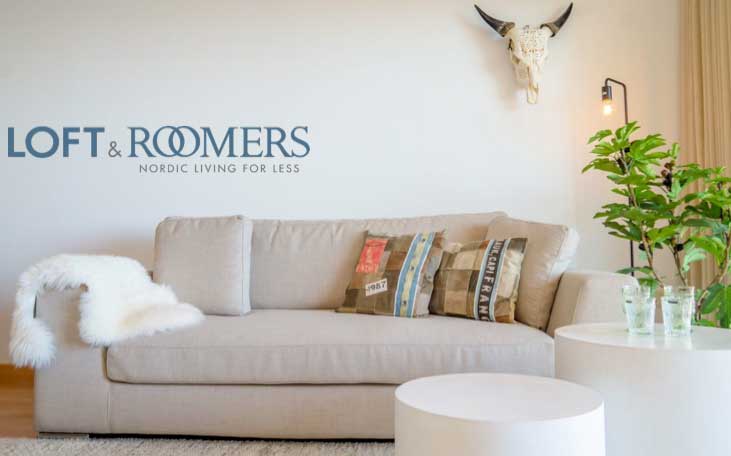 With product ranges for every room of the house – and outdoors too – LOFT & Roomers is the perfect one-stop-shop for everything you need for your home. From beds and mattresses, decorations, carpets, lighting, accessories for your kitchen and all the sofas, tables, chairs and garden furniture you could need, LOFT & Roomers has it all when it comes to furnishing your home.
With a decidedly 'Nordic' emphasis on design, LOFT & Roomers features furniture by some of Scandinavia's top designers and craftsmen.

Everything you need for:
• Living rooms • Dining rooms • Kitchens • Gardens & terraces

• Bathrooms • Bedrooms • Lighting • Home decorations

Furniture packages
Let LOFT & Roomers furnish your home with a selection of superb furniture packages* consisting of carefully pre-selected pieces – right down to the sofa cushions and cutlery – meaning you have everything you need in one go. LOFT & Roomers furniture packages specialise in minimalistic design and embrace a rustic-style elegance. Allow your dreams to materialise with a LOFT & Roomers furniture package.
*Furniture packages from as low as €4,999. Contact LOFT & Roomers for details
Décor
Details are integral to the look and feel of any home, and LOFT & Roomers stock a range of accessories to add those all-important finishing touches. Mirrors, candles, cushions, carpets, lamps, decorations, kitchen items and more, can all be found at LOFT & Roomers.
LOFT & Roomers – Quality furniture for your home
LOFT & Roomers – with showrooms in Marbella and Mijas – stock 95% of what they sell meaning they are one of the few furniture companies on the coast that can provide a free and fast delivery service - often within 24 hours - within a 100-kilometre radius. For an unbeatable mix of design, price and quality, make LOFT & Roomers your choice for home design.
Visit www.loftroomers.com today
Tel: +34 952 000 484