Recommending the best Costa del Sol businesses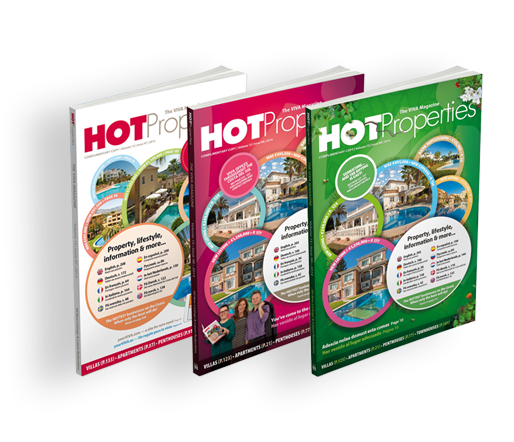 OUR PROVEN
RESULTS:
IN PRINT
The Costa del Sol just loves HOT Properties! It's snapped up and kept long by buyers, visitors, residents & vendors wherever it's distributed.

Introduced by
Carolyn Mowlem

2,700,000
Copies printed to date

Works for our buyers, vendors, collaborators & us
The millions of copies printed are proof positive that HOT Properties is as relevant, helpful and does its job as effectively today as it has for 18 years.
20,000
Printed copies every issue

The hottest thing in print on the Costa del Sol
We don't talk 'pie in the sky' readership figures, but we know that our audience seek it out & pick it up, because they want it, need it, keep it & share it.
€7,100,000
Cost of print & production to date

An unrivalled commitment to present the best
And yet we don't do it for profit. All revenue is wholly re-invested to promote our vendors' properties and the services of all our collaborators.
350+
Business collaborators to date

A proven client generator for all
Over HOT Properties' print life to date, we've worked with 350+ different advertisers. Proof positive that they see real value in our flagship publication.
600,000
Email links monthly

Every edition online 24/7
Presented within 7 million+ emails outbound from VIVA per annum, one click and our digital version is immediately available online, along with all our recent archive editions, too.
Contact John Hollway
When you are spending your hard earned money on marketing you have to be sure that every euro spent can be justified. Our proven results tell you exactly where your money goes.