Sphere Sotogrande
Sphere Sotogrande is a new residential concept pioneering sustainability.
33 exclusive homes in an incomparable location in Sotogrande, surrounded by nature. A complex that offers a relaxed lifestyle where people's well-being is the main priority.
Prices from
€970,000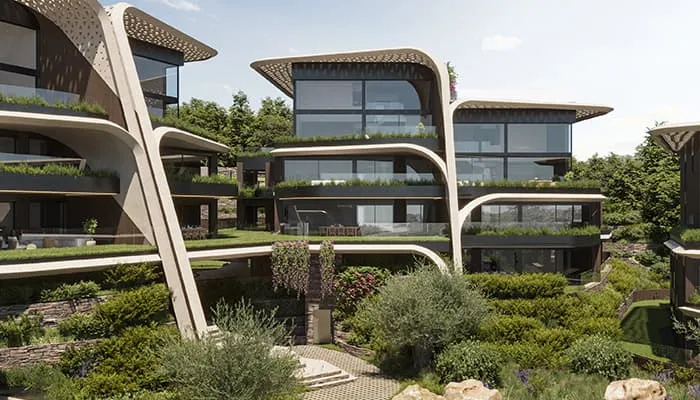 Sphere Sotogrande. The Project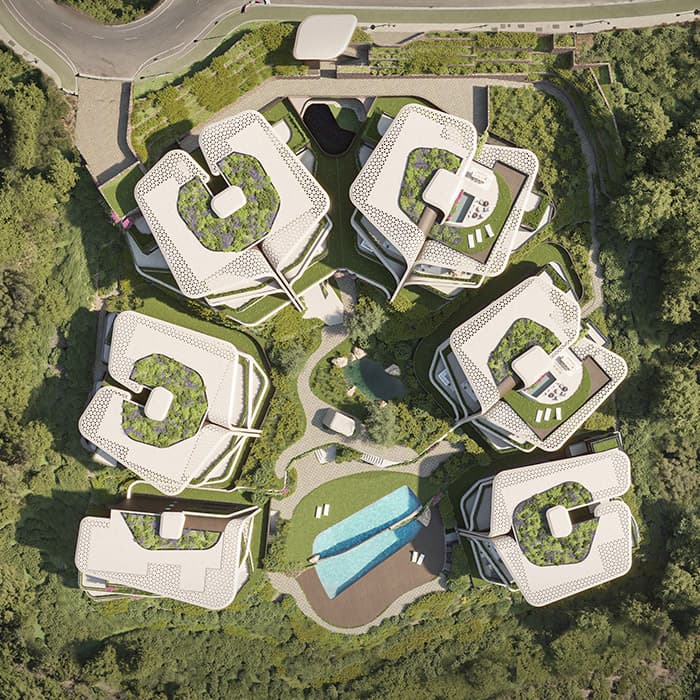 Exteriors
When architecture enhances a landscape.
These fabulous homes are totally integrated with nature. At the same time, they offer the comfort, privacy and security of a luxury residence.
Interiors
Natural light floods the spacious rooms.
Its open layout with an enormous amplitude is enhanced by natural light and high ceilings. The connection with nature is evident. From the huge windows, you can enjoy panoramic views of the surroundings. In addition, the private terraces and gardens allow for maximum privacy.
Amenities
Dreamlike communal areas
Residents will have common areas that will maximise the sense of wellbeing and comfort:
Lobby
Outdoor swimming pools
Indoor swimming pool
Fitness centre
Co-working area
Gastrobar
Natural stream
Lobby
700m2 where nature meets architecture. It has an impressive interior garden and a sheet of water in the form of a stream, providing an incredible sense of peace.
Outdoor pools
Two outdoor pools are separated by a waterfall, which in turn differentiates the leisure and swimming areas. There is also a large beach area.
Indoor swimming pool
A heated pool to enjoy the water all year round.
Fitness center
Overlooking the pool and equipped with state-of-the-art machines.
Co-working area
Equipped and furnished with the maximum ergonomics to facilitate work or studies for residents. It will be equipped with a computer and office systems.
Gastrobar
A place to celebrate a gastronomic evening with family and friends.
Natural stream
Nature itself inside the complex. We have incorporated a natural stream for the enjoyment of the residents.
Interior gardens
Total immersion in nature, the interior areas are covered with native vegetation.
33 unique homes, designed to maximize spaciousness, comfort and well-being.
Residences from 200m2 (two-bedroom) to 330m2 (four-bedroom) and penthouses exceeding 270m2.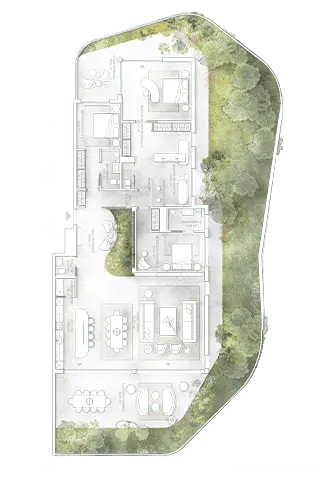 Garden
Spacious 2, 3, and 4-bedroom ground-floor apartments with a private garden of up to 155m2.
| | |
| --- | --- |
| CONSTRUCTED LIVING AREA | 217,76 m2 |
| C. TERRACE/GARDEN AREA | 219,66 m2 |
| C. A. PLUS COMMUNAL AREAS | 265,97 m2 |
| USABLE AREA | 207,65 m2 |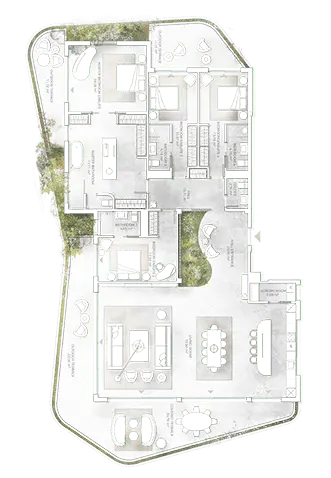 Terrace
2, 3, and 4-bedroom homes with large terraces ranging from 40m2 to 260m2.
| | |
| --- | --- |
| CONSTRUCTED LIVING AREA | 273,28 m2 |
| C. TERRACE/GARDEN AREA | 112,69 m2 |
| C. A. PLUS COMMUNAL AREAS | 335,93 m2 |
| USABLE AREA | 263,12 m2 |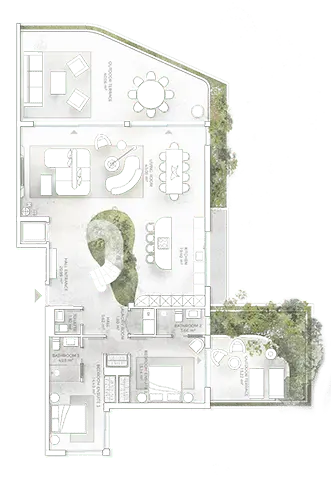 Penthouse
3 and 4-bedroom duplex penthouses from 270m2 with lounges on two levels and private solarium.
| | |
| --- | --- |
| CONSTRUCTED LIVING AREA | 234,42 m2 |
| C. TERRACE/GARDEN AREA | 260,96 m2 |
| C. A. PLUS COMMUNAL AREAS | 283,45 m2 |
| USABLE AREA | 216,78 m2 |
Well-being
Health and wellbeing as a priority
The entire project seeks to improve the health and well-being of its residents. From lighting, water, air quality, acoustics, nutrition, and the promotion of an active lifestyle. All of these have a positive impact on health and quality of life.
The lighting of rooms synchronises with the circadian rhythm. In other words, synchronising light to your body clock. The air inside the homes is filtered by advanced systems. The temperature is monitored to keep it comfortable. Drinking water treatment ensures clean and healthy water.
Circular Economy
Sphere Sotogrande is a pioneering project in the circular economy. It aims to achieve a low carbon footprint. The project has a life cycle analysis, regeneration, and reuse of water. The whole project will be audited until one year after occupation.
Sustainability
As an eco-efficient project, it will be certified with the "BREEAM Vivienda" sustainable assessment system. Through active and passive measures all spaces will be optimised to achieve the highest standards. To understand this better, as an example, by means of building orientation, insulation, and the creation of openings and shading, significant improvements in the well-being of the residents will be achieved. Active systems such as aerothermal, underfloor heating, home automation, renewable energy generation, etc. will also be available.
Comfort
Services on a par with the most luxurious hotels
Residents will be able to enjoy a wide range of semi-hotel services:
Concierge: restaurant reservations or a shuttle to the nearest airport.
Reception: a meeting centre that will also provide reception, parcel and courier services.
Security: the complex will have surveillance and controlled access, for a high-level private environment.
Home maintenance and upkeep service. Cleaning, laundry, ironing, and waste management.
Property management: an exclusive department for those who want to rent their property.
Technology: Sensors and domotics at the service of residents to achieve greater efficiency and comfort in their homes.