Benalmádena: Modern Authenticity
Unpretentious, welcoming and carefree, Benalmádena has come a long way since the 1980s and 1990s. Today, this modern resort is a forward-thinking destination that has added oodles of culture, style and charm to its incumbent "cheap 'n cheerful" starting point. Bordered by Torremolinos and Fuengirola, Benalmádena Costa's architectural make-up is unashamedly different. Benalmádena is an accessible destination for both second-home and year-round residents
While its neighbours streaked ahead in the package holiday race, Benalmádena grew at a more considered rate – today, the promenade is wide and spacious, backed by a long line of superb cafés, bars and restaurants, and fronted by a huge beach.
The award-winning Puerto Marina yacht harbour combines living and office space, plenty of restaurants, several bars and shops and even a Sealife Centre. Beyond this, the wide tree-lined streets are fresh and modern, hinting at a classically Spanish influence but quite international in their make-up.
The atmosphere throughout town is impressively welcoming, with a distinct family-friendly feel evident at every step. Indeed, aside from the plentiful late-night bars and clubs located on the main "24-Hour Square" (Plaza Solymar), the entire resort seems targeted at children.
Cosmopolitan Residential Developments
Head a couple of kilometres inland from the coast and you reach Benalmádena Pueblo, which is the original epicentre for the resort and an authentic Spanish village, complete with quaint Andalucian townhouses, cobblestoned streets and narrow alleys.
Property developments on the northern outskirts of town have a wide cross-section of residents from all over the world. Both cosmopolitan and charming, Benalmádena delivers fun-filled holidays all year round, and is an affordable and accessible destination for both second-home and year-round residents.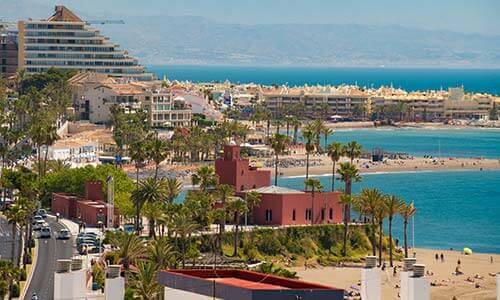 There are three main routes into Benalmádena but, whichever way you arrive, your first move is likely to be one that involves making a beeline for the beach. Every single stretch of sand is spotlessly clean, with safe and gentle surf all along, making it ideal for families with young children.
Water sports enthusiasts will be buoyed by the excellent choice of activities on offer all along the beach and, once you are peckish after all this activity, you really are spoilt for choice along the promenade. Nostalgic eaters will rejoice at the presence of several typically British (and other European) establishments, but there are also exceptional Spanish seafood restaurants to sample.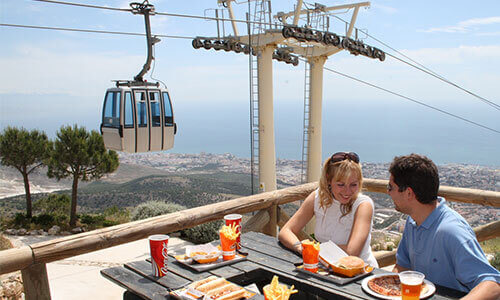 Day-Time Pursuits and Evening Pleasures
During the day, Puerto Marina throbs with activity while, away from the shore, there are a couple of beautiful parks (complete with shaded walkways and fragrant pine trees), plenty of pretty squares, and a maze of quaint and peaceful residential streets.
For expats, Benalmádena has pretty much everything a family or couple could ever need, including an international college and bilingual nursery, the Arroyo de la Miel commercial district and a wealth of traders orientated towards the expat community and on hand to assist with day-to-day living requirements such as gardening, satellite TV installation and getting your hair cut in a language you understand.
And if that were not enough, Benalmádena is also home to the Selwo Marina, complete with performing dolphins, penguins and killer whales; as well as the Teleférico cable car, taking passengers to the top of the Calamorro Mountain.
The compact size of Benalmádena makes the resort an easy one for planning a night out. Hardcore party animals have it nice and simple – the 24-Hour Square is home to approximately 20 pubs and clubs. Puerto Marina also has its fair share of late night bars and clubs. With higher prices and an ostensibly classier outlook, the bars found here are less crowded but still wonderfully atmospheric and a firm favourite with youngsters, couples and families from Málaga, Europe and beyond.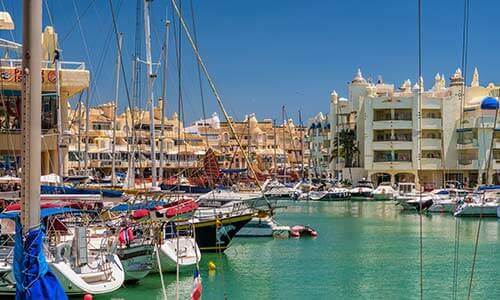 Diverse Social Ambience in Benalmádena
Elsewhere, the line of pubs that front the coastal road deliver a more sedate evening, where everyone is welcome, colourful cocktails are a common sight and the strained warblings of slightly inebriated karaoke enthusiasts waft on the still air.
Besides eating, drinking and relaxing with friends and family in the comfort of the many welcoming pubs and eateries, Benalmádena's promenade is ideal for romantic moonlit walks, while the Tivoli World amusement park hosts shows, concerts and other social events throughout the summer.