Cosmopolitan Suburbia
Elviria's location makes it an excellent option for a second home or relocation. Close to shops, bars, dining establishments, key amenities, splendid beaches and golf and other leisure activities, it offers all the ingredients of a classic Spanish dream resort. Just inland, the maze of well-manicured avenues and streets are home to sumptuous villas and townhouses, in addition to apartment complexes. This sprawling suburbia stretches right up to the La Mairena development, which sits in the heart of lush countryside. Although purpose-built and with no definitive town centre, Elviria has a pleasantly welcoming and laidback atmosphere, augmented by the array of different nationalities who call the resort home.
If you are planning on relocating for good, Elviria will certainly be near the top of your list: it is peaceful and safe, and easily accessible from Malaga airport.
Day-Time Pursuits and Evening Pleasures
A typical day spent in Elviria could take the form of many different guises. Most residents will have their own private or shared pool, so a lazy day spent catching some rays and cooling off with a dip is always a popular option. The shaded tropical gardens that accompany most apartment complexes and villas act as a magnificent buffer zone from the outside world.
The tree-lined streets are tranquil and picturesque, while the busy coastal highway can be crossed on-foot with a minimum of fuss via an overpass junction. Near this area is a commercial centre with a large supermarket and a selection of shops, restaurants and bars.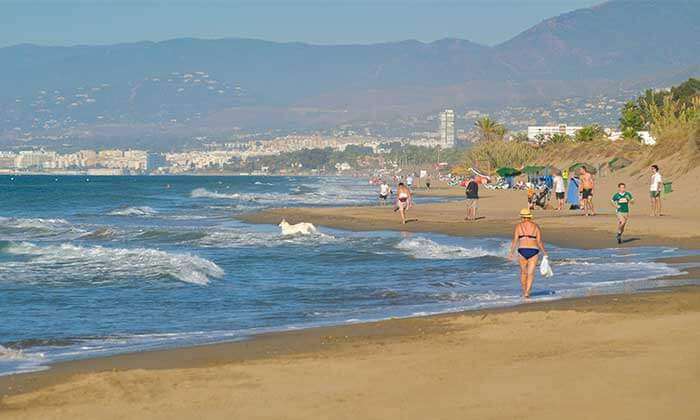 A short walk from here is a well-equipped sports centre complete with an all-weather, multi-purpose pitch – ideal for youngsters of all ages – while elsewhere in Elviria are the impressive Hofsass Tennis Academy and Royal Tennis Club Marbella (formerly El Casco).
Slightly farther afield (actually in the Los Monteros area) is the superb Río Real Golf & Hotel, which claims the distinction of having one of the first golf courses built on the Costa del Sol; and, back in Elviria's residential heights, is Greenlife Estates with its nine-hole executive course and Michelin-star restaurant El Lago.
Nikki Beach Glamour
Down by the beach is another famous Elviria attraction, Nikki Beach, next to the exclusive Don Carlos Hotel with its own lavish beach club, both offering irresistible social media selfie opportunities.
Throughout the summer months, Nikki Beach is one of the Coast's main party hubs, with some guests jetting in from around the world to join the celebrations. In May the club holds its famous "White Party", announcing the de facto beginning of "summer", and in October the "Red Party" to mark the end of the season.
Returning across the overpass into the main residential section of Elviria, the aforementioned bars welcome an eclectic and mostly foreign crowd each evening. Not overly riotous, the atmosphere here is more your common-or-garden variety holiday pub, with late night opening hours and the chance to drink al fresco until 4am being the main attraction. For a more sedate evening, try one of the many nearby restaurants.