Valuate your home for FREE and start to sell your Costa del Sol property
Do you want to know how to sell your Costa del Sol property? Find out how much your house is worth easily and at no cost to you. Doesn't that sound good? With thousands of properties appraised and sold to date, VIVA offers you an exceptional tailor-made service for selling a property in Malaga. Find out how you can stand out from other sellers whose property is on the Costa del Sol.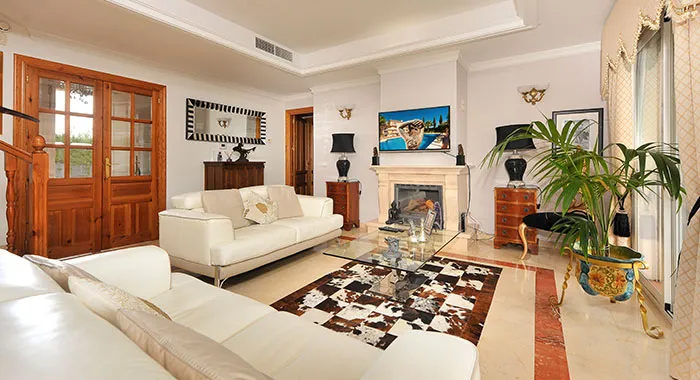 Sell your Costa del Sol property FASTER with VIVA!
Advertise your home here
Start listing your home on yourVIVA.com and sell it faster. Advertise your property FREE OF CHARGE.
Tools for vendors
We have several tools to sell your house quickly. Find out all that VIVA can offer you to make selling your house in Malaga a success.
Improve your chances of selling your Costa del Sol property, we cover the whole of the Costa del Sol. We do much more to sell your home than any other real estate agent.
We have more buyers, more infrastructure, more marketing resources and a large team of experts dedicated exclusively to vendor service.
We sell all types of properties, from apartments, townhouses, penthouses as well as plots of land, businesses or commercial premises.
Our advisors will appraise your property free of charge and will help you to obtain the best selling price and achieve a quick sale.
Everything you need to know before you buy
Here you have everything you need to know to ensure all aspects of your property sale are handled impeccably...
Vendor Services
When considering which Costa del Sol real estate agent you should entrust your property to, we invite you to ask yourself the question: Does any other agency offer anywhere near as much as VIVA?
Frequently asked questions from vendors
Find out more with our FAQ section, which is answered every day by our Customer Service team.
What people are saying...
From the time you collected us from the airport, we had a truly enjoyable experience. You gave us all the time we needed, without pressure, to make up our minds. Into the bargain, we believe we have now got a great investment and holiday home, and we have had outstanding service from VIVA and we will happily be recommending you to our friends.
Sheena and James

What people are saying...
We were over in Spain (unfortunately with another company) and called VIVA out of the blue to see if you could help. We were met at the hotel and I cannot begin to tell you what a lovely day we had with your representative. Your team are a credit to you.
Lesley and Melvin Bartlett

What people are saying...
Thank you for the information pack I received last week – what a fantastic DVD! I've shown it to friends and family who are equally impressed. The DVD and brochure have given us much more insight into the Costa del Sol than I managed in months of research. Keep up the good work.
R. Murray

What people are saying...
We (Americans) have spent at least three months each year (for the last 20) living abroad and have visited almost 40 countries. We chose Spain for our permanent retirement last year as it is the perfect compromise of lifestyle, cost, food and weather – we haven't regretted a day of it. VIVA found us the perfect home in Estepona surrounded by Spaniards and expats from 18 different countries. Your (blog) article hit the nail on the head: Spain is a top choice.
Allen Grennell
Estepona
What people are saying...
I want to thank you all for the wonderful service afforded me and my wife. I would also like to thank your representative for his professionalism throughout the time he was with us and for finding the perfect home for us to live in Spain. Everything has gone perfectly from yourselves to the lawyers to the builders. Thank you for a wonderful service.
Peter Spilling

What people are saying...
Thanks for the excellent service we received while looking for, and finally purchasing, our Spanish property. The professional and personable manner in which we were treated was much welcomed. The whole process was relaxed and stress-free – hard to imagine, particularly given our 12-year-old daughter was with us throughout. We felt fully informed throughout about what would happen following the purchase, legal matters and what facilities were available to us through VIVA once we took ownership of the property. We would wholeheartedly recommend VIVA to others.
J. Boam

What people are saying...
We arranged a trip out to the Costa del Sol where one of VIVA's representatives took us out to see about six places. She understood our needs brilliantly and the final apartment we visited suited us down to the ground. The process of buying property in Spain can be surprisingly straightforward, particularly with the help of an English-speaking company like VIVA. Having VIVA's support has been crucial. We're very happy.
Mark and Clare Bevan
Surrey
What people are saying...
By dealing with an agent like VIVA, we always had someone that was on hand when we needed them. If I was to give any advice to prospective buyers, it would be to make sure you have an estate agent that you can use if you need things to be done remotely.
Geoff and Catherine Philpot

What people are saying...
We have received first-class service. At all times VIVA has been extremely efficient and kind. Their attentive and friendly and assured nature has removed much of the stress involved during and after the purchase of our property and they continue to be of tremendous help even now. For after-sales customer service, VIVA is exceptional.
Susan Follett

What people are saying...
The VIVA staff were very helpful. After giving the team a list of our requirements, we were taken on a personalised property tour of the area. We described our dream home and VIVA showed us some great properties. VIVA helped us every step of the way. The team is always on-hand and even offered an after-sales service to help with furnishing our new apartment.
Ron and Leonie Sturgess
England