Valuate your home for FREE and start to sell your Costa del Sol property
Do you want to know how to sell your Costa del Sol property? Find out how much your house is worth easily and at no cost to you. Doesn't that sound good? With thousands of properties appraised and sold to date, VIVA offers you an exceptional tailor-made service for selling a property in Malaga. Find out how you can stand out from other sellers whose property is on the Costa del Sol.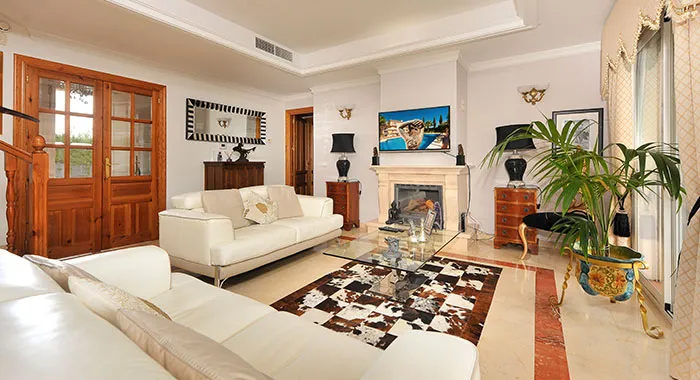 Sell your Costa del Sol property FASTER with VIVA!
Advertise your home here
Start listing your home on yourVIVA.com and sell it faster. Advertise your property FREE OF CHARGE.
Tools for vendors
We have several tools to sell your house quickly. Find out all that VIVA can offer you to make selling your house in Malaga a success.
Improve your chances of selling your Costa del Sol property, we cover the whole of the Costa del Sol. We do much more to sell your home than any other real estate agent.
We have more buyers, more infrastructure, more marketing resources and a large team of experts dedicated exclusively to vendor service.
We sell all types of properties, from apartments, townhouses, penthouses as well as plots of land, businesses or commercial premises.
Our advisors will appraise your property free of charge and will help you to obtain the best selling price and achieve a quick sale.
Everything you need to know before you buy
Here you have everything you need to know to ensure all aspects of your property sale are handled impeccably...
Vendor Services
When considering which Costa del Sol real estate agent you should entrust your property to, we invite you to ask yourself the question: Does any other agency offer anywhere near as much as VIVA?
Frequently asked questions from vendors
Find out more with our FAQ section, which is answered every day by our Customer Service team.
What people are saying...
We have just completed a purchase of a finca through your offices in Coín. I would just like to voice our appreciation of the professional and courteous way in which your representative performed. He took time and effort to find us the right property and kept us up to date on events as they unfolded – a real asset when we were in England!
Geoff Knibbs
England
What people are saying...
We would like to thank you for the way you looked after us during last week's visit. You made what might have been a stressful few days into a pleasant experience we will remember forever. We were very impressed with the way our requirements were perfectly matched; no time was lost with viewing unsuitable properties.
D. Williams

What people are saying...
The search for the right home was a dream come true, as VIVA's charming representative took us out to the mountains beyond Ojén and Monda. The house VIVA helped us to find is perfect for our requirements.
Alistair Forrest and Lynda Adlington
United Kingdom
What people are saying...
VIVA gave me all the relevant information about currency exchange and transfer companies in the area. All the transactions went without a hitch. Overall everything progressed reasonably smoothly, which when buying from 3,000 miles away is really what you want and need. This was certainly due to all the good advice and contacts we were given along the way.
Gordon and Susan Thomson
Gibraltar
What people are saying...
We are writing to you to let you know how impressed we were with the service we received from VIVA in connection with the recent purchase of two plots of land in Coín. All the staff were fantastic; they went out of their way to make meetings with the lawyer, an architect and opening a bank account with us very easy. As we were short of time our representative even came in on their day off... we spent a whole day just driving around getting to know the area. We certainly got exactly what we were looking for, and would not hesitate to recommend VIVA to anyone.
R. and V. Murton

What people are saying...
Thank you for the information pack I received last week – what a fantastic DVD! I've shown it to friends and family who are equally impressed. The DVD and brochure have given us much more insight into the Costa del Sol than I managed in months of research. Keep up the good work.
R. Murray

What people are saying...
We arranged a trip out to the Costa del Sol where one of VIVA's representatives took us out to see about six places. She understood our needs brilliantly and the final apartment we visited suited us down to the ground. The process of buying property in Spain can be surprisingly straightforward, particularly with the help of an English-speaking company like VIVA. Having VIVA's support has been crucial. We're very happy.
Mark and Clare Bevan
Surrey
What people are saying...
The process of finding a property in Spain was made very easy by our VIVA consultant, and everything was explained in detail. We wanted a house outside the main tourist areas and so he took us inland. On our first trip out we found our new Spanish home. You have made our dream a reality and we can't wait to move to Spain in the near future. Thank you VIVA.
G. Hall

What people are saying...
We love the idea of living a simple life away from the tourist route, and the house is perfect for our needs. Our dream is to spend the winters here in Spain and the summers touring festivals in Europe with our performance work and jewellery stalls.
Paul Dix and Ellie Wood
Midlands (UK)
What people are saying...
From the time you collected us from the airport, we had a truly enjoyable experience. You gave us all the time we needed, without pressure, to make up our minds. Into the bargain, we believe we have now got a great investment and holiday home, and we have had outstanding service from VIVA and we will happily be recommending you to our friends.
Sheena and James