Dramatic Landscape
Situated around 50 kilometres east of Málaga, in the Axarquía area, Nerja sits between the peaks of the Sierra Almijara and the Mediterranean Sea. Those who know Nerja, love it, and with good reason. Nerja is an absolute treat for those who appreciate rugged coastlines and sandy coves. It has been occupied since the times of the Moors, and the current Old Town dates to the 14th century. Careful, respectful town planning since then has enabled Nerja to retain its centuries-old essence, albeit with the modern touches of a 21st century tourist resort.
Nerja's picturesque coastline harbours more than 10 kilometres of attractive beaches and inlets, the most famous being the Balcón de Europa (Balcony of Europe). This stunning cliff face divides the beach below into two, with palm trees, al fresco cafés and restaurants, plenty of shops and bars and a bustling promenade hub. Other popular coastline areas include Las Alberquillas, El Pino and El Cañuelo.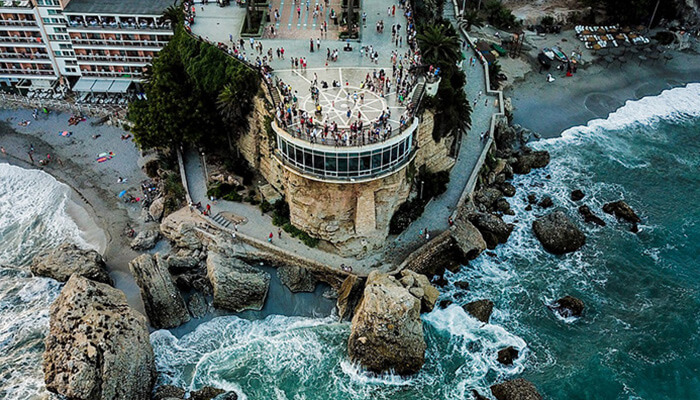 Day-Time Pursuits and Evening Pleasures
The resort's Playa Burriana beach is excellent for water sports, a rocky stretch of coastline that is ideal for scuba diving, as well as windsurfing, canoeing, kayaking and kitesurfing for much of the year. Also within a relatively convenient distance are three top golf courses: Baviera Golf in nearby Caleta de Vélez, Añoreta in Rincón de la Victoria municipality and Los Moriscos in Motril (just across the provincial border in Granada).
Located not far from the town, and one of Spain's most popular tourist attractions. The Nerja Caves are a dramatic natural wonder, eliciting a sense of peace and awe in equal measure. Only discovered as recently as 1959, these huge underground caverns had lain untouched by human hands for millennia, hiding prehistoric cave paintings and pieces of wall art that are thought to be some of the oldest ever discovered on the continent.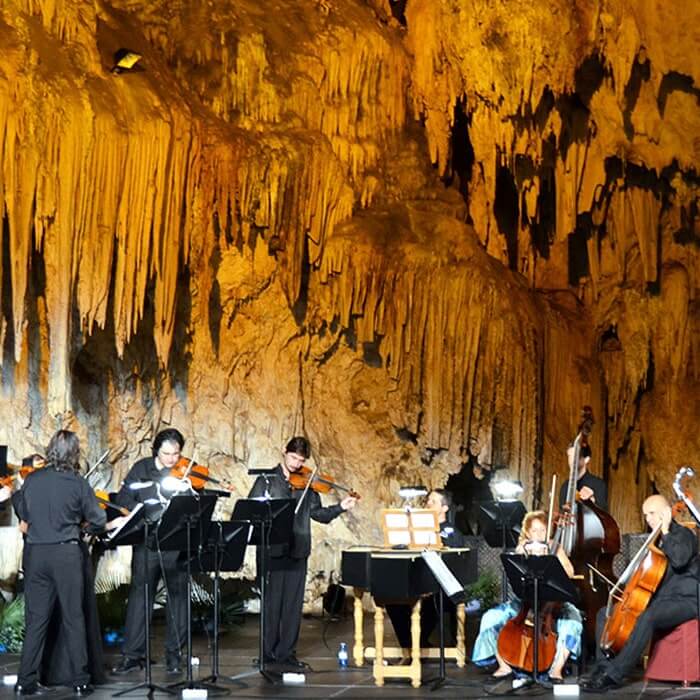 Nerja Caves: Haunting Prehistoric Beauty
Now a designated National Historic-Artistic Monument, they provide a brilliant day out for the whole family: the haunting beauty of the prehistoric art is matched by the eerie shadows thrown by huge stalactites and stalagmites sprouting throughout the caves.
As for the nightlife, there are plenty of late-night bars and clubs to choose from, although Nerja tends to cater more for local Spaniards, older couples and families with young children than those naturally drawn to more riotous hotspots at the other end of the Coast.
Beyond the bars, there are some superb restaurants, near the Balcón de Europa and in and around the Old Town. And for something a little different… each summer the Nerja Caves host the International Festival of Music and Dance, a celebration of classical music, ballet and opera that has attracted such star names as Yehudi Menuhin, Kiri Te Kanawa and Paco de Lucía.