Contemporary Boulevard Chic
A tranquil town epitomising "traditional Spain", San Pedro de Alcantara is relatively unknown on the main international tourist agendas. There are, for example, no Facebook postings by attention-seeking social networkers about "awesome" weekends spent tearing up the streets of San Pedro. San Pedro de Alcantara is resolutely content to stay serenely under the radar. The town that forms the majority of what is San Pedro de Alcantara is a square-shaped collection of tightly-knit whitewashed buildings, straight and narrow streets and a main central plaza that is overlooked by a lovely church, with a newly developed boulevard creating a cool architectural connection between the village and its seaside area and promenade.
Compact and laidback, San Pedro de Alcantara is a long-standing favourite with holidaymakers, particularly those who take pleasure from strolling through relatively quiet streets, enjoying a relaxing cup of coffee or glass of beer, sampling a selection of terrific tapas – and simply enjoying the sunshine. Away from the apartments, shops, bars and offices that comprise the busy yet somehow perennially peaceful centre of San Pedro de Alcantara, the newer urbanisations of Nueva Alcántara form something of a front garden for the town.
On the other side of the boulevard (built above the tunnel that now shunts vehicles through the town without causing the traffic congestion that previously beset it), wide avenues, grid-shaped developments and grassy lawns stretch out before you, fronted by the shimmering azure of the Mediterranean. Hundreds of expats and non-local Spaniards have holiday homes here, hidden in vast developments and enveloped by a sublime sense of stillness. The beach and promenade act as an open-air gym, solarium and nightclub all in one.
Exclusive Guadalmina Estate
Just to the west of San Pedro – still in Marbella, on the border with Estepona and Benahavís municipalities – is Guadalmina, one of the Costa del Sol's oldest established and most exclusive and highly-coveted residential estates. It is home to ultra-select villas and townhouses, distinguished residents, tranquil tree-lined avenues, two highly rated golf courses (one dating to 1959), an international college, and a diverse array of premier services and amenities.
Day-Time Pursuits and Evening Pleasures
For holidaymakers (or expats not having to work), the best plan is to get up fairly early, enjoy a languid breakfast and stroll through the pleasant San Pedro streets proffering a friendly "Hola" to locals perched on the town's numerous benches. Shop at your leisure in the town's interesting variety of clothing boutiques and toy stores, before retiring to the beach, the pool or the cool shade of your apartment in the afternoon.
For residents, the town has everything you could possibly want: well-priced supermarkets, medical clinics, an international college, 24-hour pharmacies, plenty of superb bars and restaurants – and excellent access to the rest of the Costa del Sol.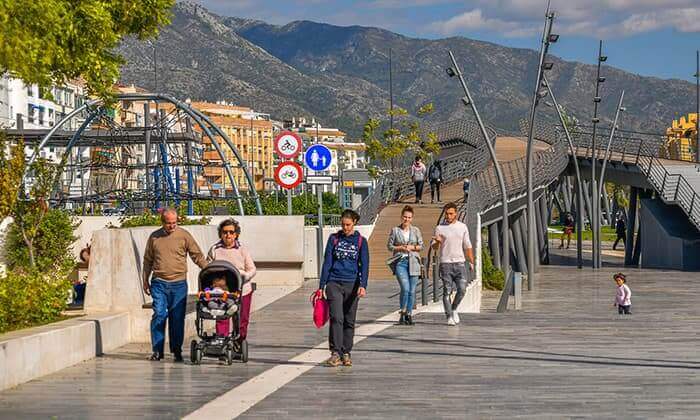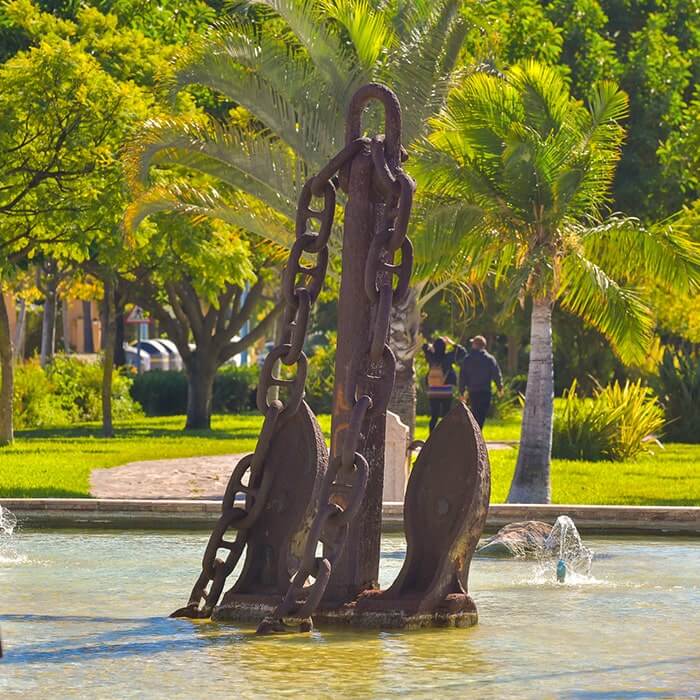 Vibrant Revelry
Sedate reputation aside, San Pedro still surprises with the choice and vibrancy of its nightlife.
In the evenings – and particularly during summer weekends – the various bars-cum-clubs that front the square stay open until late, pump out disco and pop music all night and attract a young and mostly local crowd who spill out into the square and mingle happily (for them, that is – not necessarily for "sleeping" residents) until sunrise.
Lost groups of northern European revellers looking for Puerto Banús will often stumble across the scene, and end up quite pleased to stay in this heaving heart of San Pedro's nightlife. Additional evening activity can be enjoyed in salsa bars, a delightful smattering of tapas establishments and the Plaza de la Iglesia, where free open-air concerts are held throughout the year.