Historic Connection with Julius Caesar
The exact area covered by Manilva is difficult to define: part undulating terrain-part twisting coastline, combining classic Andalucian village with modern-day tourist resort. Historically, the town grew thanks to agriculture, the hills that surround it proving fertile ground for some of the best grapes found in Spain.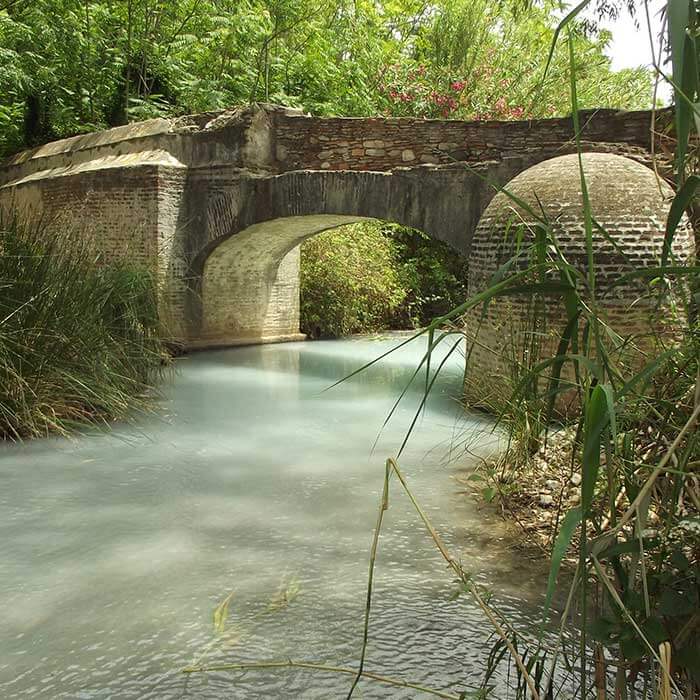 Manilva municipality is situated towards the far (western) end of the Costa del Sol, bordering Cádiz province. The town proper is relatively small, three kilometres inland from the coast; while the coastal resort of Sabinillas is quite distinctive, and is adjacent to the gentrified marina at La Duquesa.
Day-Time Pursuits and Evening Pleasures
The Baños de la Hedionda (Roman baths) – reportedly a favoured haunt of Julius Caesar – are an excellent spot for an early morning dip. Head a few kilometres inland from Manilva (the baths are actually in Casares municipality although their "ownership" is contested), past dense vegetation, veer slightly off road, follow your instincts – and you are bound to find it.
The cool waters of the dark underground plunge pool may look uninviting, but there's no better way of cleansing your skin of the rich natural mud you smeared on yourself minutes early and allowed to bake hard in the searing sunshine. Free, simple and enjoyable for the entire family, these baths are Manilva's (or Casares's) greatest hidden treasure.
Once you are suitably refreshed and smooth of skin, the inviting cafés that line the streets of Manilva serve a delicious array of traditional Spanish breakfasts, snacks and beverages, making them a must-visit before noon.
Beachside Relaxation
Later, the beach at Sabinillas is the ideal place for a lengthy spot of sunbathing, relaxing under a parasol and lunch in one of the eateries that line the promenade. Then, to conclude the day… a trip to La Duquesa for the boutiques, yachts, beautiful people – and gin tonics.
Manilva's daytime attractions are charming and diverting but, come sundown, most visitors will have returned home. Those who do stay, or who are holidaying in the municipality, will most likely head to the diverse, sometimes quirky, bars along the Sabinillas promenade, or the more refined establishments in La Duquesa marina.
In the first week of September, Manilva's celebrated muscatel grapes are honoured with their own harvest festival, complete with grape trampling, song, dance and, of course, copious imbibing of wine.