R2665949
Detached villa for sale in Ronda
Built

400 m2

Beds

4

Baths

2

Terrace

50m²

Plot

1000 m2
Your dreamy home!

This fascinating chalet has all the luxury with modern touches and details. It offers you all the extravagance and comfort you had always wanted for your perfect place to live.

You really need to take a look to the spectacularity of this Villa and see its magnificent, you will want to move in right away!

This astonishing Villa boasts of 400 sqm and has a plot of 1000 sqm, consist of 4 splendid bedrooms with fitted wardrobes, two bathrooms with shower .

Two floors and terrace, hall with natural light and floating staircase , glass-roofed spa, fitness room with wooden floors and bathroom. preinstallation for sauna. room for office or bedroom, the iron for room or bedroom, fully fitted kitchen with center island with high-end appliances Gaggenau steam oven, microwave hot air oven, you will have the pleasure to cook your delicious meals anytime you wish, there is a living room with fireplace an incredible place to relax and enjoy the relaxing views all around the Villa.

With the best qualities as OROPESA floors and oak, walls of perlite, travertine tiled bath, shower in master bath travertine mosaic craft, home automation, installation of lighting in the gardenswhich gives more luxury details.

In this Villa you will find an extraordinary swimming pool where you can spend time sunbathing, enjoying with your friends and family, the Villa has plenty space to make your own bbq or parties any moment you wish.

You will take advantage of every single space of this modern and luxury Villa an amazing place where you will feel like in heaven and you will be able to feel inspired with the outstanding views available in this impressive Villa.

It has a fabulous location in Ronda, Malaga, it is a part of the autonomous community of Andalusia Spanish city located in the northwest of the province of Málaga, where you will have the most beautiful places designed for your entertainment and fun, you will also find all kinds of amenities that will fulfill with all your needs.

This Villa is a unique place that is available for you, if you own it we assure you that you will be more than happy and satisfied.

Don't waste more time and contact us right away! it will be our pleasure to help you!
Read more
Read less
Built

400 m2

Bedrooms

4

Bathrooms

2

Terrace

50m²

Plot

1000 m2

Greig Hayes
Client Services Director
Venerable Past
Set high above the Costa del Sol, at the north-western end of Málaga province, Ronda epitomises the best of two worlds. On the one hand… its venerable history, dramatic scenery and grand architecture encapsulated by the iconic Puente Nuevo (New Bridge). Spanning the plunging El Tajo gorge, with the River Guadalevén meandering through the valley nearly 100 metres below, Ronda delivers some of the most awe-inspiring views seen anywhere in Spain.

Enlarge Map
And then there is modern-day Ronda… The road journey to Ronda from the coast is a winding and gently escalating route – a picturesque joy for many but something of an ordeal for vertigo-sufferers – and the verdant lower terrain is home to some of Andalucía's most exclusive gated developments, wonderfully juxtaposed by the intermittent presence of goat herders transiting their livestock from one valley to the next.
As you travel higher, the Mediterranean disappears from view and the landscape turns almost lunar-like as you approach the heart of the mountain range and, eventually, the stunning Sierra de Grazalema.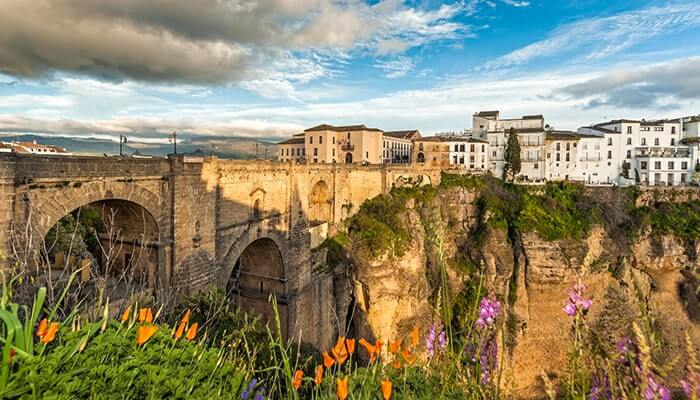 Breathtaking Countryside Views
Once in town, Ronda's location is a veritable paradise for sightseers, provided you have a head for heights.
In addition to the cavernous El Tajo, Ronda has several other viewing platforms that provide breathtaking views of the surrounding plains and distant mountains, as well as attractive plazas, boutique-lined streets and bars, restaurants and tapas establishments. Just about everything, in fact, that you would be able to find along the coast. The difference here is that you have mountains rather than beach and sea – and far fewer expats (apart from the tourists).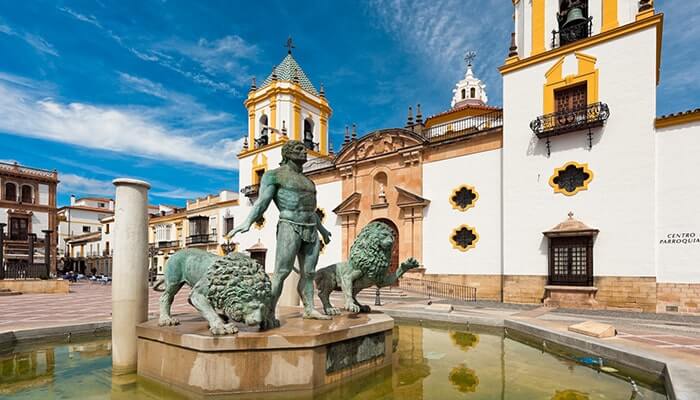 Day-Time Pursuits and Evening Pleasures
There is much to see and do in Ronda, despite its relatively small size. Your days can be filled hiking in the hills, shopping in the centre, sipping coffee from the numerous vantage points that overlook the gorge, or simply enjoying a diverse array of leisure activities.
If you are comfortable with the "cultural experience" of bullfighting, the famous bullring is worth a visit out of season so you can go behind the scenes and understand the history of the pastime.
Beyond the town are 52,000 hectares of lush, rugged and varied terrain to traverse in the Sierra de Grazalema, the fertile land that rings Ronda city and divides the highlands of the southern Andalucian plateau between Sevilla, Ronda and El Bosque.
Reaching heights of 1,600 metres above sea level, this wild and undulating terrain is home to very few humans, but plenty of flora and fauna, including some of the most impressive examples of birds of prey found anywhere in Europe. Soaring and circling high above the Sierra de Grazalema are lion buzzards, black vultures, ospreys and eagles.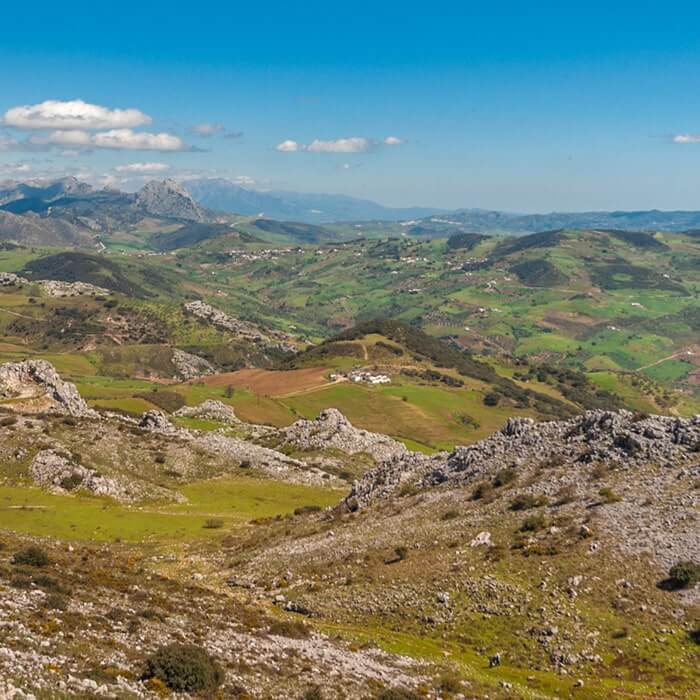 Diverse Culinary Options
In Ronda, you are just within reach of Marbella and Puerto Banús if you fancy a night out on the coast, but it's a longish, awkward drive back. For something a little more traditional and not requiring a car, Ronda itself has an excellent selection of restaurants serving all manner of cuisine from around the world. Many of the local delicacies differ from the light, seafood-inspired dishes found along the coast; here, the often hardy winters mean that dishes can be heavier and richer, but well worth experiencing.
With its small expat population, Ronda also offers the opportunity of enjoying Andalucian-style evening revelry. That means heading out to a bar at around 11pm, enjoying a couple of small beers or wines and maybe a gin tonic, then moving on to a louder (and often garish) club to continue until the early hours.