Family Fun - Waterparks
Locals on the Costa del Sol are spoiled for choice when it comes to deciding in what kind of aquatic setting they would like to frolic in. They can frolic in swimming pools, frolic in the sea, frolic in inland lakes or frolic in one of the two impressive waterparks that call the Coast home. That's a lot of frolicking, but then, when living on the Costa del Sol, frolicking becomes as customary an activity as walking. You tend to spend a lot of time in water...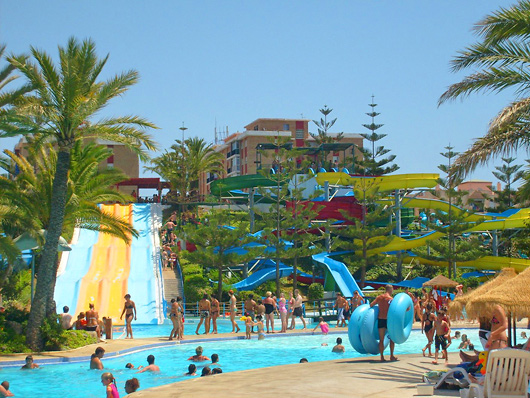 The biggest of the three coastal waterparks – and one of the biggest in Europe for that matter – is Torremolinos' Aqualand. Here lies more than 70,000m2 of thrilling slides and rides with intriguing names like Spiral, Boomerang, Black Hole and Anaconda. And once you've had your last adrenaline rush on the Crazy Cones slide and your final thrill fix on the Kamikaze, there are several Jacuzzi pools in which to relax and regain your composure. The park features a number of food outlets where you can pick up typical theme park-type grub such as burgers, pizzas, hot dogs and ice creams, but Aqualand also allow visitors to bring their own picnics with them, meaning you aren't obliged to shell out hard-earned euros at the park's restaurants.
Only a short distance down the road is the smaller but equally thrilling Parque Aquatico Mijas near Fuengirola. This park also has a ride named Kamikaze so basically you know what you're in for. There is also a picnic area and amusement arcade for the kids.
Aquavelis in Torre del Mar services waterslide enthusiasts east of Málaga. In what is a recurring theme, Aquavelis has an 80-metre slide also named Kamikaze, as well as a wave pool and various other slides, restaurants and cafes.
Don't fancy tearing yourself away from the beach in order to visit a waterpark? In a variety of locations along the Coast, you won't have to, thanks to fun-filled 'floating waterparks'. Afloat on the sea just a few metres from the shore, these buoyant playgrounds have trampolines, slides, obstacle courses and more, where you and the kids can hurl yourselves into the sea before clambering back up and resuming the fun. Take a look at the Costa Waterpark website for exact locations and opening season. In general, a day at a waterpark can be tiring but ultimately great fun. The children will certainly enjoy it and there is plenty to keep the adults entertained too.
Life in Spain main page
More from Life in Spain