Helena
Customer Services
Voyage of Discovery
You've decided it's time to buy a property on the Costa del Sol – for a full-time residence, holiday home or buy-to-rent investment – and you start your research. There are hundreds of agents on the Coast – so which one to choose? That's the easy part: VIVA offers the most extensive and diverse portfolio of properties, the most professional service, the most invaluable back-up resources – and the friendliest welcome.
Our experienced team speak all major European languages; we can arrange viewing tours on any day of the week, and throughout the year; we always paint an honest picture of the market; and we stay by your side until the key to your new home is handed over – and beyond! It's time to start the journey.
You begin your property search at yourVIVA.com...
After asking friends or family who own a property on the Costa del Sol for a recommendation, or hearing about VIVA though one of our many marketing channels, you decide our website offers the best range of property options and services.
You sign up for a myVIVA account...
Our myVIVA section enables you to create a personalised buying experience (completely free and in accordance with full database protection under EU regulations), receive customised property alerts and save your favourite properties.
Our representative arranges a bespoke tour...
Well prepared with your myVIVA updated preferences, one of our Customer Services professionals prepares a schedule for you to view anything from one specific home that has especially caught your attention to several properties.
You make your travel arrangements...
With VIVA's help and advice if necessary, you fly into Málaga on one of the Costa del Sol's 300-plus days a year of magnificent sunshine, and either rent a car or ask for a VIVA representative to organise an airport pick-up.
You settle in and prepare for your viewing...
At the most convenient time for you, a VIVA sales representative who speaks your language picks you up at your hotel or other accommodation, you nestle back at ease in stress-free comfort, and the tour begins.
Want to arrange a viewing with VIVA?
or
Time to make a decision...
At the end of the morning, afternoon or second day – however long you need – you join your sales representative (and other VIVA colleagues) in one of our well-appointed and cutting-edge offices, and discuss the various options.
"We stay by your side until the key to your new home is handed over"
Bingo, your choice has become clear...
It's a hard decision but, after reviewing the pros and cons of each property – and, perhaps, sleeping on your deliberations (of course, after a relaxed dinner and bottle of wine by the Mediterranean) – you know which one is your definitive dream home.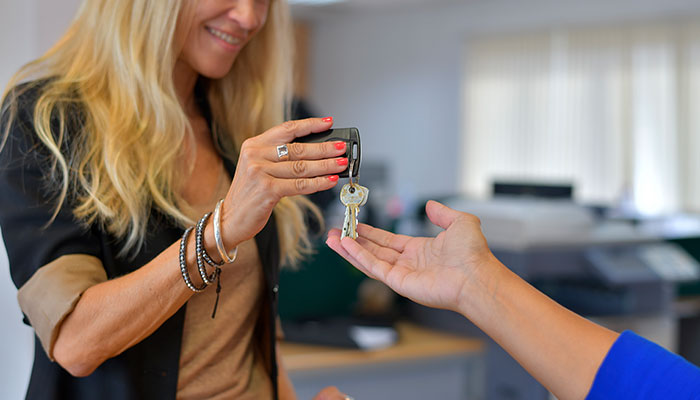 Finalising the purchase and tying up loose ends...
Now it's time for our support team to move into action... legal, financial and other experts who can help you sort out the paperwork while you prepare to return home and make new travel plans – this time more permanent.
Congratulations: you are now a Costa del Sol homeowner!
What people are saying...
We arranged a trip out to the Costa del Sol where one of VIVA's representatives took us out to see about six places. She understood our needs brilliantly and the final apartment we visited suited us down to the ground. The process of buying property in Spain can be surprisingly straightforward, particularly with the help of an English-speaking company like VIVA. Having VIVA's support has been crucial. We're very happy.
Mark and Clare Bevan
Surrey
What people are saying...
The VIVA staff were very helpful. After giving the team a list of our requirements, we were taken on a personalised property tour of the area. We described our dream home and VIVA showed us some great properties. VIVA helped us every step of the way. The team is always on-hand and even offered an after-sales service to help with furnishing our new apartment.
Ron and Leonie Sturgess
England
What people are saying...
We were picked up from where we were staying in Mijas Costa and here began our relationship with VIVA. That morning was a whirl of information, sitting in VIVA's very pleasant cool offices drinking coffee. . It only took two days exploring before we decided on a new-build, completed but only just released for occupation, at Arenal Golf. There were a few minor hiccups along the way, but nothing that VIVA couldn't resolve.


Ted and Pat Perry
United Kingdom
What people are saying...
Thank you for the information pack I received last week – what a fantastic DVD! I've shown it to friends and family who are equally impressed. The DVD and brochure have given us much more insight into the Costa del Sol than I managed in months of research. Keep up the good work.
R. Murray

What people are saying...
We love the idea of living a simple life away from the tourist route, and the house is perfect for our needs. Our dream is to spend the winters here in Spain and the summers touring festivals in Europe with our performance work and jewellery stalls.
Paul Dix and Ellie Wood
Midlands (UK)
What people are saying...
By dealing with an agent like VIVA, we always had someone that was on hand when we needed them. If I was to give any advice to prospective buyers, it would be to make sure you have an estate agent that you can use if you need things to be done remotely.
Geoff and Catherine Philpot

What people are saying...
We have received first-class service. At all times VIVA has been extremely efficient and kind. Their attentive and friendly and assured nature has removed much of the stress involved during and after the purchase of our property and they continue to be of tremendous help even now. For after-sales customer service, VIVA is exceptional.
Susan Follett

What people are saying...
We were very impressed with the whole VIVA service. They don't waste any time at all. We talked to one other couple who took a year to find a property. We did it in a day! And being chauffeured around was brilliant. We'd never have found the places we saw if we'd been on our own.
Nick and Janet Cook

What people are saying...
We are writing to you to let you know how impressed we were with the service we received from VIVA in connection with the recent purchase of two plots of land in Coín. All the staff were fantastic; they went out of their way to make meetings with the lawyer, an architect and opening a bank account with us very easy. As we were short of time our representative even came in on their day off... we spent a whole day just driving around getting to know the area. We certainly got exactly what we were looking for, and would not hesitate to recommend VIVA to anyone.
R. and V. Murton

What people are saying...
I remember telling VIVA at the outset that even we didn't know exactly what we wanted, but they never once gave up on us. And then one day they phoned to say they were sure they'd found us exactly what we were looking for. The moment we saw Al Lago, we knew our search was over and that we'd found the property we'd been dreaming of back in New York!
Mona Arain and Stefan Crites
New York