Restaurants in Marbella
From modest locales to Michelin stars
As I've mentioned before on the VIVA blog, exquisite food is not necessarily the top reason for moving to Spain, but it is something that makes it very hard to leave once you've been here for a while. And nowhere is this truer than on the sought-after Costa del Sol, whose local and international residents enjoy the Spanish way of life by eating out frequently and sniffing out the best restaurants in Marbella, Benahavís, Estepona, Fuengirola, Mijas, Málaga… and beyond.
With this in mind, and for reasons I'll explain in a second, I thought I'd start off the new year with a guide to the gastronomic offering in trendy Marbella.
"Why Marbella?", you might ask...
Perhaps it's because it is the birthplace of the super-star chef and three Michelin Star-holder Dani García. Perhaps it's due to its prestigious location and because the affluence of the Golden Mile and the much-famed playground of the rich and the famous, Puerto Banús, fall within the boundaries of the municipality. Or maybe it's just the perfect location; slap bang in the centre of the Costa del Sol and easy to reach for tourists and regular diners.
Whether it be for one, or all, of these reasons, Marbella is one of the places to be if you want to eat out in Andalucía and it attracts the most discerning palates from across the globe. But don't just take my word for it. The fat marshmallow Michelin man – who has (visibly) seen off a degustation menu or two in his time – also endorses the high quality of the restaurants in Marbella, featuring its eateries heavily in the 2020 Michelin Guide for Spain and Portugal.
Haute cuisine
The province of Málaga made waves in foodie circles back in November when two of its restaurants – Benito Gómez's Bardal (Ronda) and Marcos Granda's Skina (Marbella) – gained two-star recognition in the same year for the first time in history. For people chasing haute cuisine, then, the Costa del Sol can claim to be a veritable food mecca now more than ever.
Here are the restaurants in Marbella that made it into the 2020 Michelin Guide for Spain and Portugal...
Skina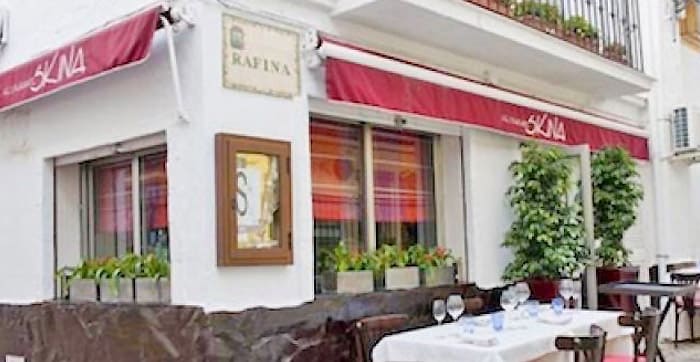 If it's fine dining you crave, you can do no better (on paper, at least) than the aforementioned Skina, which is tucked away charmingly and rather humbly, for a restaurant of its significant profile, in the narrow cobbled alleys in the Old Town. Seriously, blink and you'll miss it.
Quoting the restaurant's website, "truffles, seafood, homemade bread and sweets" are just some of its specialities, while the chic eatery takes pride in crafting all its culinary creations from locally sourced ingredients and flavours. Furthermore, Skina boasts a wine list with 700 vinos produced by a vast array of international winemakers.
The other two restaurants in Marbella with Michelin stars are:
As the name suggests, El Lago by by José Carlos García's beautiful terrace is suspended over a lake, making for a superb dining experience. The lake actually plays a dual role, as it's also an obstacle on the par-three Greenlife Golf course surrounding the restaurant, but more about that another time…
The Elviria establishment has held one Michelin star since way back in 2005 – surely testament to the consistently high standards it sets for itself – and shows no signs of slacking off. You can enjoy a degustation menu from €72 per person, while I particularly like the look of the heartier meat and fish options on the à la carte menu.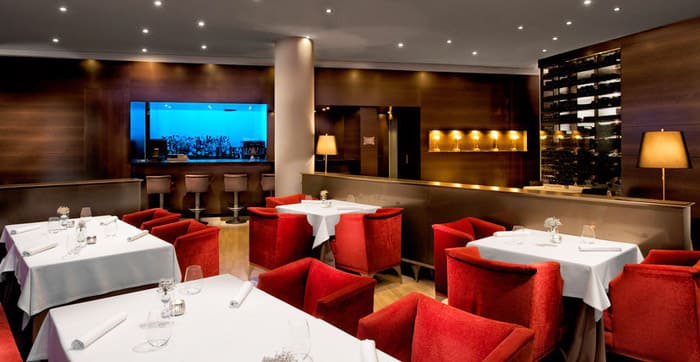 Rounding out Marbella's compliment of Michelin starred restaurants is Messina, whose owners Pía Ninci and Mauricio Giovanini favour "simple and elegant presentation" and where freshly caught fish and crustaceans are the main protagonists of their menu.
Once again, don't expect to pay any less than €69 per person for a tasting menu, but you can bet the grub is delicious at Messina, who have now racked up five consecutive years on the Michelin guide.
Bib Gourmand honours
If, like me, you have no idea what "Bib Gourmand" means, I'll explain. Designed to merit restaurants offering great quality food at a modest price, the Bib Gourmand category was added to the Michelin guide in 1997 and has been a barometer for value-for-money eateries ever since.
To give you an idea of the price criterion, patrons must be able to dine for a maximum of €35 per person to be in with a shout of nomination.
Of the seven Bib Gourmands handed out to establishments in the province of Málaga in 2020, three are restaurants in Marbella. They are BIBO by Dani García (I mentioned him a little earlier) in Puerto Romano on the swanky Golden Mile, Aderezzo in the dead centre of the Old Town and KAVA by Fernando Alcalá between the Alameda Park and Venus Beach.
Well worth checking these out if you want a gourmet experience at an attainable price.
Other restaurants in Marbella
If posh dining isn't your thing, or you're eating out on a budget, there is plenty for you in Marbella. One of the main pedestrian thoroughfares from the town down to the seafront – Avenida Miguel Cano, for those in the know – is lined with inexpensive eateries (most with sunny terraces, too!) and you can nibble on typical Spanish tapas dishes from as little as one or two euros a pop.
Failing that, head down to beach level a little further along the paseo marítimo and you'll be spoilt for choice with typical Andalusian seafood restaurants – marisquerías – where you can try the catch of the day, espetos, piled-high portions of squid rings and much more besides without spending a fortune.
Unlike some beach resorts, these and other restaurants in Marbella aren't solely open for the tourist trade. Locals eat out here a lot and Andalusians are proud when it comes to their food, so the quality of the town's gastronomic offering – whether you're a big spender or have a modest budget of €15-€20 per head – is very high across the board.
If you've got any questions about Spanish food, where to eat, or specifically regarding restaurants in Marbella, let me know in the comments below! In the meantime, enjoy eating out in 2020 and I hope I've given you a few ideas for those special occasions…