Laidback Bohemian Appeal
Located a short drive from the Costa del Sol, on the Atlantic side of the Straits of Gibraltar, Tarifa is the most southerly point of continental Europe – and also its windiest area.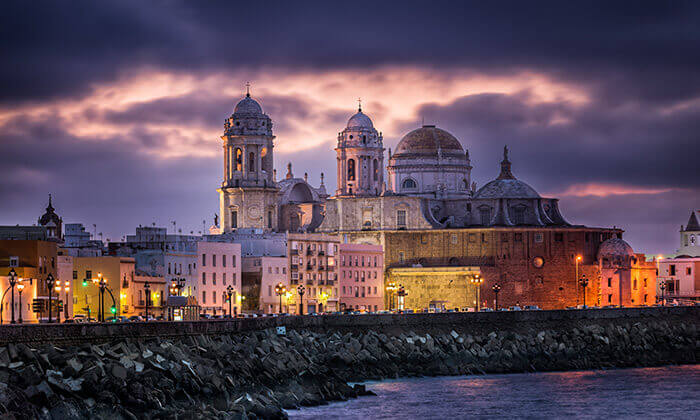 That makes it an obvious haven for surf sports enthusiasts from around the world, but over the years the extended coastline from Tarifa to Cádiz city – through Bolonia, Zahara de los Atunes, Barbate, Los Caños de Meca, El Palmar, Conil de la Frontera and Sancti Petri – has also attracted an increasing number of visitors who simply want to chill out away from the hustle and bustle of Málaga or other urban areas of Andalucía.
And just beyond Conil, and the bordering modern residential area of Novo Sancto Petri with its well-manicured golf courses, five-star hotels and famous La Barrosa beach is Cádiz, generally considered to be the oldest continuously inhabited city in western Europe.
"The wind capital of Europe"
But returning to Tarifa… its laidback character, its kilometres of white sandy beaches, its accessibility and affordability and its invitingly bohemian atmosphere are a draw for all types of people, young and old – and not just those wanting to test their skills at kite-surfing, bodyboarding, windsurfing and the like.
Tarifa is popularly known as the "wind capital of Europe" – and for good reason. When the wind blows, it really blows. Not just blustery gusts that catch you unawares and send you momentarily off balance, but rather a sustained blast that offers very little let up day and night.
Great for surfers and the environment (Tarifa's neighbouring wind farm is one of the largest in Europe and generates enough electricity to power more than 100,000 households a year); not so good for the town's inhabitants forced to get on with everyday life.
However, it is not windy every day in Tarifa, and even on the windiest of days the summer months are still extremely pleasant.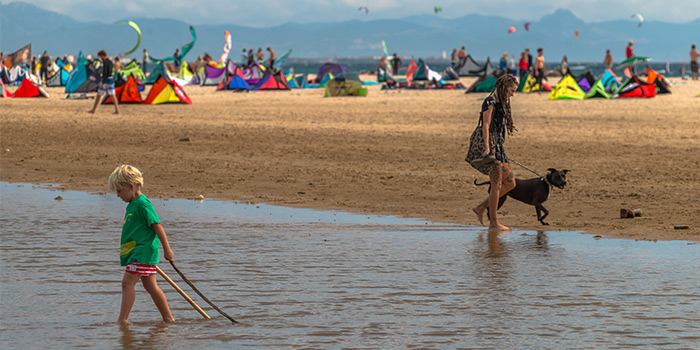 Day-Time Pursuits and Evening Pleasures
Activities during the day in Tarifa tend to revolve, almost exclusively, around the beach, highlighted by the stunning Punta Paloma stretch three kilometres west of the town. Its huge sand dune was formed over centuries by the strong winds that blow across the bay on an almost daily basis. Here today, the Atlantic Ocean close to shore acts as a busy playground for the hundreds of wind and kite surfers who frequent the beach, their brightly coloured masts and taut kite lines zipping across the horizon and creating a fascinating spectacle – although sometimes not leaving much (safe) space for other beachgoers.
Back in the ancient heart of town, the Paseo de La Alameda promenade enchants visitors with its fragrant gardens, well-manicured pathways, shaded benches and delightful fountains.
The town's older folk retreat here during the hot summer months to escape the hairdryer-like hot winds that blow across the town, and tourists enjoy an ice cream while slowing their pace and taking in the serenity of the surroundings. The centrepiece of The Alameda is a statue of Guzman el Bueno, local hero and reputed town saviour.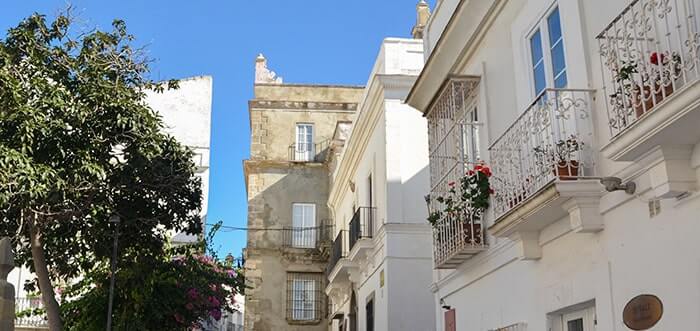 Attractive Lure for Costa Revellers
Close by are plenty of charming tapas bars, ideal during the evenings for those seeking an affordable and delicious meal with friends. Remarkably, Tarifa manages to attract revellers all the way from the Costa del Sol on weekends, drawn by array of nightclubs, late-night bars and young people's chic.
Of course, those in search of a sedate family evening will find the triumphant triumvirate of Spanish socialising – tapas, charm and cheap beer/wine – but Tarifa does carry with it all the connotations of a party town, particularly in summer.