Family Fun - Theme Parks
The Costa del Sol has a wide variety of differently themed parks providing the kind of entertainment that all the family will love. Be it animals, sea life or the more traditional theme park attractions, you are not left wanting for places to visit. The benign climate makes outdoor activities like this a year-round joy, although the stifling heat of high summer leaves many of the larger animals at the animal parks a little lethargic at high noon, so visits should be planned accordingly.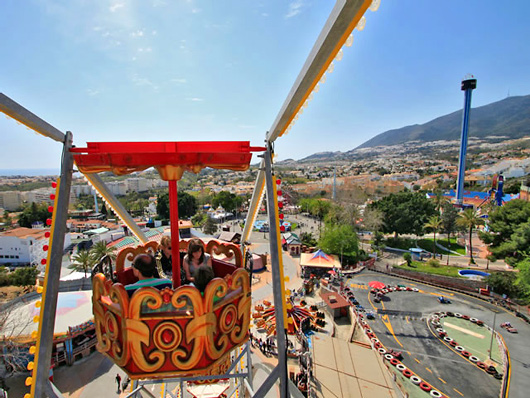 Tivoli World was the first theme park to open on the Costa del Sol, and is pitched at a young audience. Teens might sulk if you drag them along, but for anyone under 13, there is plenty to keep them entertained, such as the vertigo-inducing 60-metre Free Fall Tower. You can hear the screams of terrified glee for miles. Located in Arroyo de la Miel in Benalmádena.
Crocodile Park does exactly as it says on its tin. Home to more than 300 species of crocodile and other reptiles, it's an interesting and unique attraction that is located right next door to Aqualand in Torremolinos: You can even see the crocodiles wallowing in their pools from the top of the very highest slides… luckily, there are no plans to combine the two parks!
Selwo Aventura is a large safari and adventure park near Estepona. Beautiful grounds, adrenalin-inducing treks and some genuinely big-ticket animals make this a fabulous day out that the entire family will not forget for a long time. Over 2,000 exotic animals including lions and elephants roam semi-free (thankfully not completely free) over the 1 million square metre park. It's a mini-safari for all the family.
Selwo Marina is the smaller brother of Selwo Aventura, and is concerned with all things aquatic. Located in Benalmádena, this is an impressive marine life centre, complete with live dolphin shows, sea lions, penguins and more.
Benalmádena Butterfly Park offers a much more sedate wildlife experience if you're a little tired of being close to fang-toothed beasts. Located in a Thai Temple, visitors can walk among more than 1,500 exotic butterflies from all over the world as they fly freely around a tropical paradise featuring waterfalls and a profusion of colourful flowers. A very 'Zen' way to spend a few hours.
Sea Life Benalmádena has perhaps the widest range of sealife on the Costa del Sol, boasting a giant Pacific octopus, numerous sharks, seahorses, turtles, rays and much more. The glass underwater tunnel lets you get up close and personal with some underwater creatures capable of moving you a little further down the food chain.
Aventura Amazonia in Elviria is where your family of Tarzans and Janes can take to the treetops on 20 ziplines over six adventure circuits. The park boasts the longest tree zipline in Andalucía at 240 metres in length and multi-lingual instructors are on hand to ensure the high-wire fun goes off without a hitch.
Funny Beach Marbella is home to one of Marbella's most famous landmarks – the giant Coca-Cola can close to the more well-known landmark of the eastern Marbella Arch. An array of activities are on hand here, from go-karting to a variety of watersports including fun and futuristic hoverboards, paddle-surf and parasailing. The great thing about Funny Beach is that while the kids are practising their Fernando Alonso skills on track, mum and dad can retire to the beach bar for a cooling cocktail. The chiringuito has recently been converted into a swanky beach club, so be prepared for higher prices than is customary.
Bioparc Fuengirola is an urban jungle of the most surprising and unexpectedly beautiful kind. Formerly Fuengirola Zoo, Bioparc is right in the very centre of town. A benchmark immersion zoo, with barriers virtually invisible to the naked eye, this careful recreation of the tropical forests of Madagascar, Equatorial Africa and Southeast Asia is home to 1,300 animals of around 140 different species... and the very newest arrivals are Komodo dragons. In July and August, Bioparc stays open until midnight, so you can get up close and personal with nocturnal creatures, too.
Teleferico Cable Car Benalmádena is another great family outing. As long as you don't mind heights, the cable car takes you from the town – over the busy N340 autovía – and up to the peak of Mount Calamorro where you have spectacular views of the entire coast. And once at the top there's more to do than simply soak up the amazing vistas. Aside from the café serving cool drinks and the various hiking routes for the more adventurous, there is an open-air planetarium, a birds of prey exhibition and equestrian displays put on daily.
CostaJump is the Coast's latest addition to the seemingly endless list of fun attractions for children. It's an indoor trampoline park in San Pedro where your little bundles of joy can bounce and tumble to their hearts content.
Life in Spain main page
More from Life in Spain