Relocating from abroad
Decision made...now what?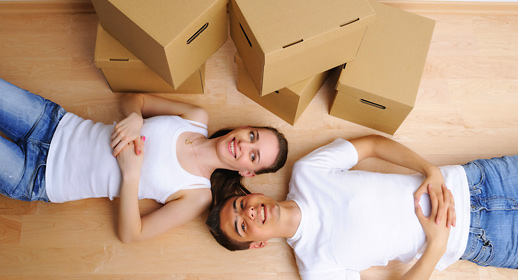 Relocating to Spain from another country
Part 1: Planning & Research (you are here)
Part 2: Paperwork, Legalities & Buying
So your mind's made up. You've decided to join the thousands of people who have decided to go for it and start a new life in Spain. Spain has always been a popular retirement location, but in the last 10 years or so, there have been increasing numbers of young people, including families, relocating permanently both to coastal areas and inland. Once you actually make the decision and go from dreaming about it to thinking about the practicalities, it can get a little overwhelming, so we've put together a clear, concise guide to help you think about the important things in your new life even from information like removals to Spain.
Research areas and available properties
You can do some initial research on the internet, just to give you an idea of what's available and where. As you can see, yourVIVA's own website has detailed area guides, information on the kind of property available in each area and useful insights into the many aspects of living and working in Spain. If there's something you think we've missed and you'd like to know about, why not email us today and we'll get the experts onto it straight away.
Once you've done some initial research and have narrowed down your choice of area a little, that's the time to come and see for yourself. There's nothing like being here and getting a feel for an area, seeing what's available in terms of facilities and, of course, checking out what kind of property is available and at what price. Read about visiting the area here 

Decide where you'd like to live, and whether to rent or buy
At this stage, you need to consider whether you might like to rent a property for a while or whether you want to buy straight away. yourVIVA can help you whatever you decide to do. Renting a property can help to familiarise you with an area on a daily basis and find out first hand what health and education facilities are available as well as practicalities like transport and shopping. yourVIVA will be happy to help you find a property for a medium- or long-term rentals until you find your feet. Many people prefer to buy property so that they feel they've really arrived, it's very much a personal choice. If you prefer to buy, yourVIVA can help you find the perfect property for your needs and give advice on many matters like furniture packages and removal services.

Healthcare
Nothing is as important as your health and that of your family and this is something you should organise well in advance. Your decisions about healthcare will depend on your circumstances and we have extensive information for all eventualities on our Healthcare section. One thing you should do before you move is to find out your healthcare entitlements in Spain. Remember you may not be able to claim benefits in the same way that you did at home. If you currently live in the UK, contact the Department for Work and Pensions (DWP) www.dwp.gov.uk to find out your entitlement, which will depend on whether you're retired or not and whether you've been paying social security in the UK up to the point of departure. Whatever your situation, it's advisable to take out private healthcare to begin with so that you're covered until you become familiar with what's what in Spain. Visit our healthcare section.

Pensions
If you're entitled to a UK State pension, you can claim it from Spain. Contact the DWP for a pension forecast. If you're already claiming a pension, the DWP will also advise you how to claim your pension from Spain and there's more detailed information on our Retirement page.


Schools & education
If you have school-age children, one of the most important things is to research the schooling possibilities as early as possible. Decide whether you'd prefer for them to attend a Spanish school (state or private) or an international school where the teaching will be in English or may be in both English and Spanish. Details of the schools in the main areas of the Costa del Sol are listed on our Education fact sheet and the National Association of British School in Spain (NABSS) has links to the websites of all schools that are NABSS members. You can do a little initial research this way. Once you decide on the type of school, contact a few of them for a prospectus and line up some visits when you come to view property. Visit our education section
Learning the language
Although English is widely spoken in southern Spain, it's important that you know the basics before you arrive. It will help to smooth your path tremendously if you can communicate in Spanish, particularly if you're going to be working. Spanish isn't a difficult language to learn and technology makes it even easier! The VIVA "Learning the Language" page has some basic phrases to start you off and then you can do a little whenever you want with the excellent BBC Languages website. The site allows you to test your own level, find out more about Spain and its people and learn a little about the working environment in Spain.
Getting a job in Spain
Make sure your CV is up to date and register with some reputable recruitment agencies in Spain, such as Recruit Spain. This is a good way to find out what's available in Spain and Gibraltar, but remember that if someone calls you for an interview, you'll need to be in Spain! Read more about working in Spain
Getting around
While public transport is generally excellent here on the Costa del Sol, if you plan to live and work here, it will help if can get around by car. You'll be more independent, you can explore the area more easily and of course, you'll be able to get to those beautiful hidden away spots that the region is so famous for! Before you get into the driving seat, make sure you're driving legally, that you have all the correct paperwork and try and get to know some of the main areas. It'll help to avoid any panics when you're driving to that important interview! The Costa del Sol runs along one main highway, so as long as you can find that and the sea, you can get practically anywhere! Read our transport & travel page for more information.
Bringing your pets
If you have a pet that you plan to bring with you to Spain, it pays to be well prepared, particularly if you plan to take it backwards and forwards to the UK. You need to make sure your pet will be allowed to enter Spain but also that it will be allowed to re-enter the UK without quarantine. The UK has strict entry regulations for pets and even if you think you won't want to take your pet back, it pays to be prepared in case of an emergency. Pets travelling within Europe can usually avoid quarantine as long as they fulfil certain health requirements. The will need an EU Pet Passport (no photos required!) and to qualify for one is a long process which can take up to eight months, even if everything goes straightforwardly. Check our Pets page for more information.
Furnishing your property in Spain
If you are moving to Spain then you will need to make the decision on whether you bring your existing furniture with you or whether you decide to furnish your new Spanish property from scratch. Depending on your intended use of the property it may well be worth considering a company that specialises in furniture packages. It will save you time and cuts out all the stress!
If you're thinking if leaving the cold behind for good, these links can help you get started. Remember, most of us here at yourVIVA have made this type of move to Spain ourselves, so we can help you with first-hand knowledge of relocating to Spain. Give us a call today...and before you know it, your old life will seem like a distant memory!
VIVA Recommends: Costa del Sol furnishing companies
Useful Links:
Further links:
Moving main page
More from Moving